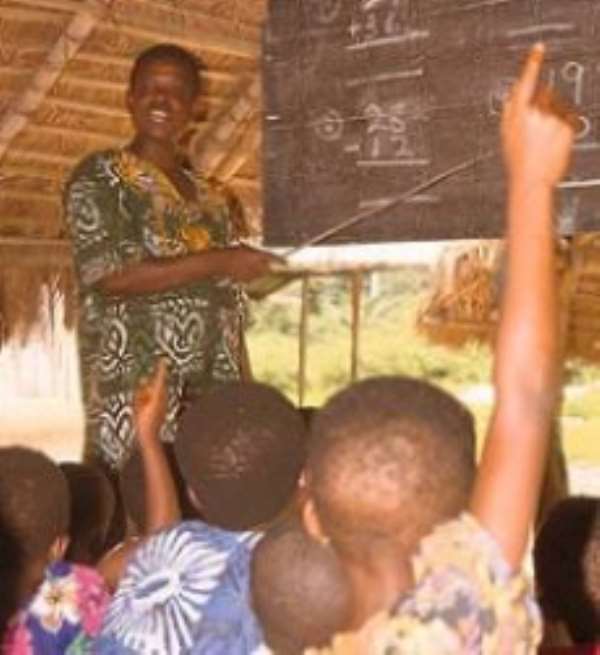 Tamale, May 9, GNA - Primary school teachers in the Tamale metropolis on Monday threatened a sit-down strike to demand an expeditious action by the court in an assault case, of which on one of their colleagues was the victim.
The teachers, numbering about 250, thronged the offices of the Tamale Metropolitan Assembly (TMA), where they petitioned the Metropolitan Director of Education to intervene and forestall the increasing assaults being meted out to teachers in the metropolis.
Their threat to go on a sit-down strike followed an adjournment for the fifth time of a case, in which four "macho" men allegedly assaulted their colleague, Mr Abdallah Mohammed Iddrisu, a primary six teacher from Our Lady Of Fatima Primary School in Tamale, in the classroom. The irate teachers considered the court's action, as "justice delayed is justice denied".
Mr Iddrisu, who narrated the incident to the GNA in Tamale said on Friday, March 11, this year, he punished two pupils from his class, who had insulted each other, and cautioned the entire class to desist from that habit.
He said not long after he had punished the two children, four "macho" men, accompanied by one of the pupils he had punished, stormed his class, pounced on him and gave him some slaps until he fell on a table injuring his chest and right eye.
Mr Iddrisu explained that the men fled on their motorcycles to a police station to report the matter, while the class made noise to attract the attention of other teachers in the school.
He said he also reported the case to the Police, who subsequently sent the case to the court.
Alhaji Iddrisu Adam, the Metropolitan Chief Executive, who later addressed the teachers after a meeting with their leadership, asked them to rescind their decision to embark on a sit-down strike. Some of the teachers however, did not heed the advice of the MCE and chanted slogans like "no justice no school" and "we want justice now". Meanwhile, primary school children, who turned up for school on Monday were asked to go home.
Some parents, who spoke to the GNA, gave indication that they would take the teachers to court, because their action was "detrimental to the welfare of their wards". They claimed that the issue at stake was between a teacher and a parent, which should not affect the innocent children.