Begoro farmers want gov't to fast track one-village one-dam plan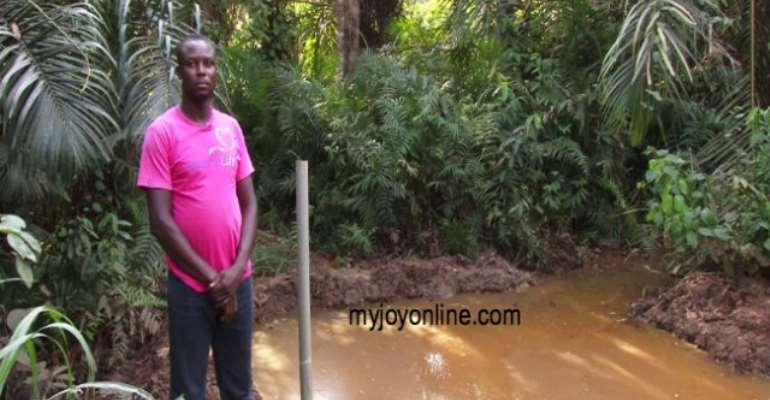 Farmers at Begoro in the Eastern Region are appealing to government to fast-track efforts at fulfilling its one-village one-dam electoral promise to ensure sustainable vegetable production there.
The farmers have over the years relied on stagnant, dirty and polluted sources to get water to irrigate their vegetables. Farmers at Beregoro grow mainly lettuce, pepper, garden eggs and other vegetables.
These crops require constant watering, else they wilt and die. The farmers claim relying on the polluted water sources has been a major source of fungus infection on their farms which they struggle to deal with.
"The water we rely on is the cause of the fungus infection. Animals including cattle do walk in the stagnant stream and drink from it. In the process, they infect it with the microorganism.
"The moment you use it to water your crops, the fungus then attack the roots of the plants," Danso Samuel who is a member of the Export Farmers Association in Begoro told Joy News.
The farmers say the destruction by the fungus usually delves a heavy blow to them, as they are unable to harvest enough yield. "The fungus destroys the seedlings, thus causing them to rot. And then they fall," Danso explained.
"The water is not hygienic. Government should construct mini dams and boreholes for us to make use of in our activities," he added.
Obed Asiamah, another farmer in the community noted there is the need for vegetables to be grown at places close to water bodies, hence farmers decided to dam a nearby stream allow them to use it for their operations.
But he says it is proving counterproductive now and says it is about time that government acted on their plight.
"We are begging the government to come to our aid. When Nana Addo, was campaigning, he promised one village and one dam. He should quickly fulfill this promise so as to bring us, farmers, some relief," Asiamah added.
"We started this on our own and dug this but clearly, we need a properly dug out dam. We have built this and now we want government to speedily come and support us in the one-village one-dam policy," he stated.
Whilst campaigning ahead of elections last year, Flagbearer of the New Patriotic Party (NPP), and now President Akufo-Addo promised that if he wins the polls, every farming village will get a dam as part of efforts to ensure all year round production of food to help make the country a net food exporter.
Finance Minister Ken Ofori-Atta announced in the 2017 budget statement delivered to parliament that an amount of 89 million cedis had been allocated for the policy. But ground works to allow for the digging up of the dams are yet to begin.
The Agric Ministry recently announced that an Israeli company, Commercial Project Management Africa has expressed interest in partnering government to construct the dams.
Now, the farmers at Begoro say they are awaiting the speedy fulfillment of the promise to ensure the challenge with irrigation is dealt with once and for all.
Story by Ghana | Myjoyonline.com | Joseph Opoku Gakpo | Joy News