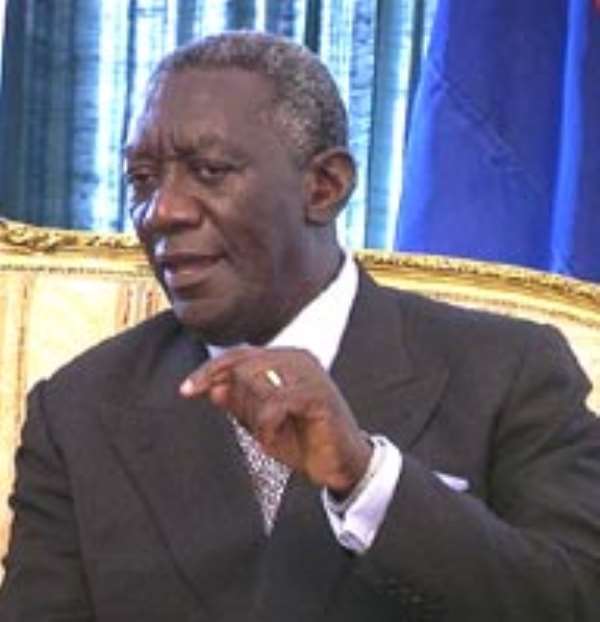 Accra, May 5, GNA - President John Agyekum Kufuor on Thursday called on the World Trade Organisation (WTO) and developed countries to make it possible for Africa to access the international markets more freely. He said: "Currently, Africa does not farewell in those markets because of artificial barriers raised to its products and agricultural subsidies within the developed countries that continued to make Africa's produce uncompetitive." President Kufuor made the call when addressing the opening session of the two-day G8/NEPAD Summit on the Implementation of the Comprehensive Africa Agricultural Development Programme (CAADP) in Accra. The CAADP document estimates an investment cost of 251 billion dollars between 2002 and 2015 to be financed from beneficiaries and domestic resources mobilisation. President Kufuor said until the removal of those obviously inimical artificial barriers and subsidies in the developed markets, the developing countries would remain gravely handicapped. "Even with increased donor assistance and the resultant increased agricultural output, Africa cannot penetrate the markets of the developed countries with its produce. This is the challenge a Summit such as this must contemplate", he said.
President Kufuor said African leaders had an uphill task, but there must be no relenting in their endeavours to improve the lives of their people and expressed optimism that the outcome of the Summit would take the Continent closer to the realisation of the goals, adding: " This is why CAADP must succeed."
He said African Leaders placed agriculture as a top priority on NEPAD's agenda for development to concentrate efforts to enable technical and professional know-how and needed resources to be harnessed to solve problems facing the sector on the Continent.
"Our expectation is that the NEPAD Secretariat with a bird's eye view appreciation of the Continent's assets will help plan and implement agricultural policies using economies of scale, irrigation, post harvest management, scientific marketing and promotion of agro-based industries", he said.
Mr Dave Fish, Head of the Africa Division, Department for International Development (DFID) UK, said she would continue to put Africa's development on her agenda.
Mr Ernest Akobour Debrah, Minister of Food and Agriculture (MOFA), said the Summit was historic because after three years of deliberations, Africa was ready to implement CAADP.
He said CAADP had afforded Africa an opportunity to meet the G8 and other development partners on the framework for the implementation of the programme.
The Minister said: "Poverty and hunger continued to plague the Continent and Africans can no longer wait".
President Theodoro Obiang N'guema M'Basogo of Equatorial Guinea, who chaired the opening session, said the Summit was a means for Africans to interact to find solutions to problems on the Continent.
Out of the estimated 251 billion dollars for the CAADP, 68 billion dollars would be used to extend sustainable land management and reliable water control systems, that would include increasing the area under irrigation to 20 million hectares and improved land management. A total of 128.8 billion dollars would be used to improve rural infrastructure and trade related capacity for market access.
About 89 billion dollars of the amount would be for infrastructure; 37 billion dollars for operation and maintenance and 2.8 billion for trade related capacities for improved market access.
Increase in food supply and reduction in hunger would involve 49.6 billion dollars out of which 6.6 billion dollars would be used to raise the productivity of 15 million small farms through improved technology, services and policies and one billion dollars for regional support to food security.
Agricultural research, technology dissemination and adoption would take 4.6 billion dollars.