There seems to be a looming rampage at the Narcotics Control Board (NACOB), the agency concerned with the formulation and enforcement of narcotic laws in Ghana due to some review of salaries and promotions in the ranks of officers by its Acting Executive Secretary, Francis Kofi Torkornoo.
Information gathered from reliable sources point to a situation akin to a cold war within the agency, with wild silent protests by various groups of staff on Mr. Torkornoo's directives and dictates. The problem has to do with salary review, promotions and upgrade in the ranks of officers.
The officers alleged that Mr. Torkornoo, who stepped into the shoes of Mr. Nii Lantey Blankson, has reversed a lot of positive interventions introduced by his predecessor, which were meant to cushion staff and better their lives.
Further probe into issues revealed that the immediate past acting executive secretary upgraded the ranks of junior officers before leaving office with the intention of bridging the wide gap between the Assistant Narcotics Analyst (ANA) and the Senior Narcotics Desk Officer (SNDO).
Mr. Blankson then upgraded the junior officers to Principal Narcotics Desk Officer (PNDO), among other senior ranks with attractive incentives but with this new administration under Mr. Torkornoo, he has reviewed and sent all those officers who were beneficiaries of the upgrade back to their old ranks and slashed their salaries as well.
This situation, the NACOB officers identified is creating disaffection as tempers continue to rise each and every day.
The enraged officers also warned that the work by the board aimed at preventing the use, import, and export of narcotics may be in vain if these machinations are not stopped since officers will be compelled to survive through other unlawful means at the airports and at the ports and harbours.
Meanwhile, a Memo from the agency's Human Resource ordering unhappy staff to petition management individually on recent events, is making matters worse since most of the officers fear it is a clear attempt to penalise those behind the protests who are likely to be transfered to far away locations to work from.
The Memo read: ''I am directed by the Acting Executive Secretary (AES) to inform staff who have issues with the reviewed promotion and upgrade to rather petition management individually instead of in groups.
Members of staff are also being reminded that the deadline for the submission of petition is Friday 21st April, 2017.
Please take note and act accordingly Submitted for your information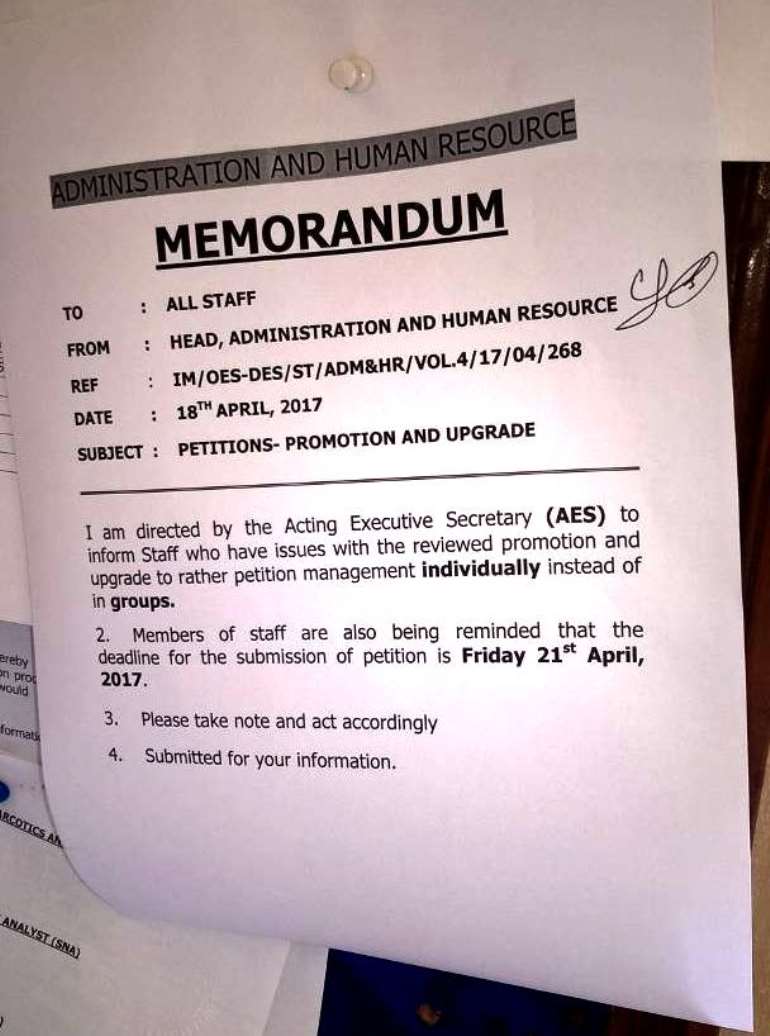 See Memo Attached Here As Well
Another Memo cited by this reporter in relation to the same matters read:
"Reference "A" informed staff of a planned review of promotions and upgrades.
Officers who were due for promotion have been promoted to the ranks shown by their names and those who are not yet due for promotion are to take note of their due date for promotion.
Individual letters would be written to officers to contain the salary levels and points of their current ranks.
Officers who have issues with the outcome of the review may wish to put in a petition to Management through their immediate supervisors by 16:00HRS, Thursday 13 April 2017.
Submitted for the information of all staff"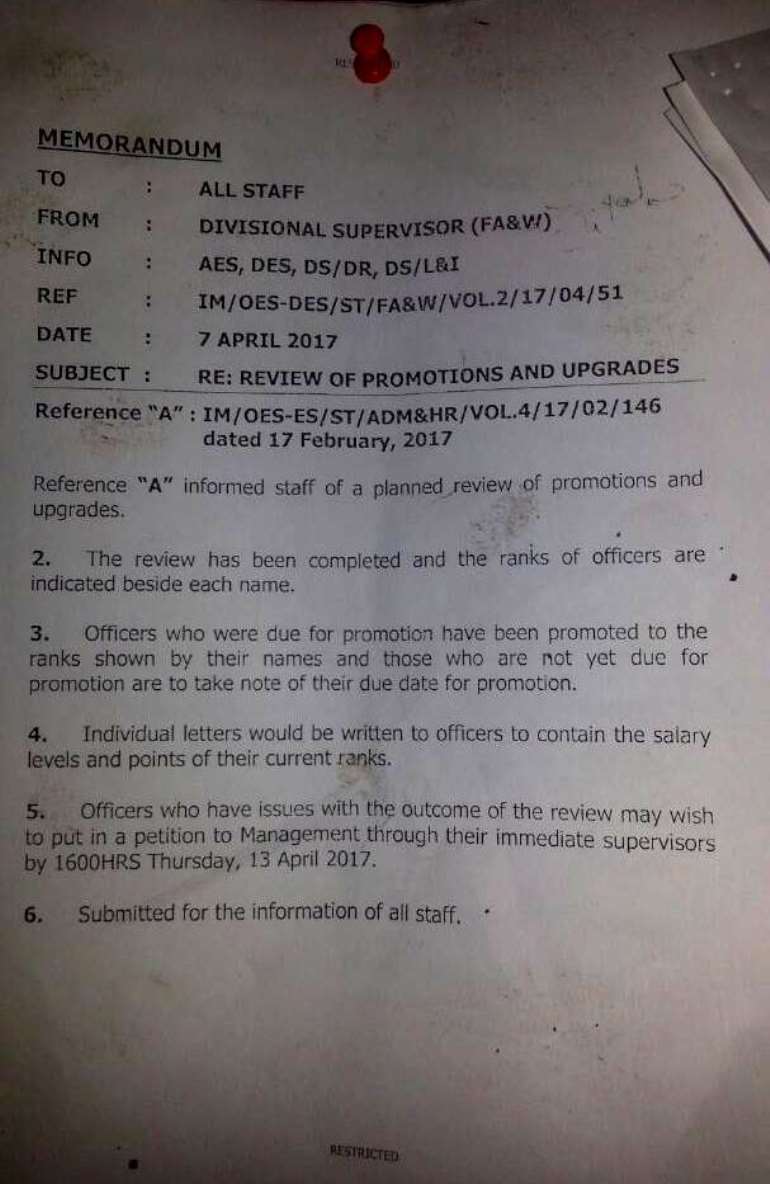 See Memo Attached Here