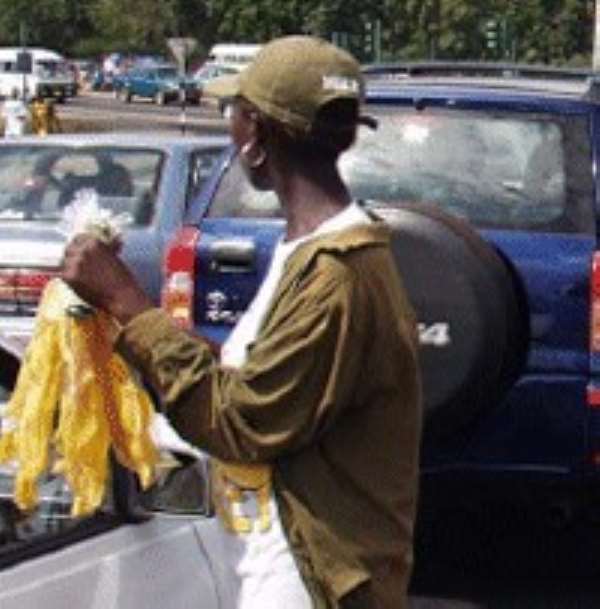 A combined team of police and AMA officials is finding it tough enforcing a ban on hawking on Accra's streets.
Hawkers have been engaged in sporadic verbal exchanges with the taskforce, which is bent on kicking them off the city's busy streets.
Following up on a clash between the hawkers and the taskforce team on Monday, Joy News has been assessing the situation in Accra's Central Business District.
The AMA will obviously not have it easy to continue holding the traders off Accra's streets-not after the Local Government Ministry ordered a halt on the AMA's decongestion exercises.
A member of the task force told Joy News the ministry has complicated an otherwise simple solution to Accra's choked streets.
"They heard on the radio that street hawking will be stopped and so they decided not to leave the streets and from the way they are behaving if you say or do anything, it could result in clashes. But before we started this operation, we were asked by our leaders to be patient with the hawkers," he says.
At the frontage of the Internal Revenue Service close to the Fire Service, hawkers cordoned off an area to display and sell their wares.
That drew the attention of the AMA and police who's attempt to remove them was fiercely resisted in a confrontation.
The hawkers argued they would rather be jailed than comply with the marching orders.
"If the government is unwilling to give us a place, we will stay here, we are already established here and it will not be easy to move our belonging to Odorna and Agbogbloshie because our businesses will collapse," they said
They also say government promised to resettle them at the PWD yard but they are presently uncertain about their fate. " Right now we don't know if the government is deceiving us or not. We want government to allow us to stay here for some time because we are hungry and we cannot stay home for two more months," they said.
Some of the hawkers also say they are ready to take up farming as suggested by government as long as they would be given the needed assistance. "If the president says we should go back to the village and engage in farming activities, then he should provide us with farm implements like tractors to work with," they said.