21 April 2017
|
Opinion/Feature
President Nana Akufo- Addo Is Not A Presidential Material? Nana Addo Can Never Be President?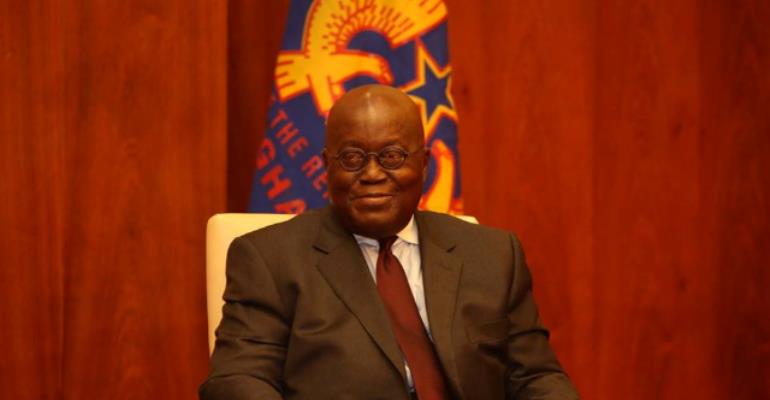 All those who were making these statement will reflect back and regret even thinking of that statement and not even talking of voicing it out, and my follow Ghanaians will also reflect back and say why did we punish ourselves with hardship for good 8 years of NDC incompetent and backwards rule.
Nana Akufo Addo has never failed and will never fail, with just 100 days of his presidency the results are far better than NDC 8 year rule. Even my friends at NDC grassroot are testifying that President Nana Akuffo is making life better than their own party rule.
We can see the hope of better life, the hope of employment the hope for food, now my brothers and sisters at the training colleges have regained their financial strength, my wives and mothers' nurses have also gained their monthly economic power back. This has created direct employment at the various training colleges across the country. Now student can afford to take their allowance and buy goods and other items in the provision kiosk on campus and their parents can also invest the money they will have send to their children on campus into their businesses and therefore creating employment
Reduction of fertilizers for farmers, I ask myself so he is able to do all these within 100 days and we allow ministers like OkuZeto Ablakwa to head a ministry that corrupted the teachers allowance and there were sharing the money.
I head the minority is asking for an investigation into the 100 days lavish parties of the president. If I could advise them to keep quiet because many of them make politics to be a crime people that could not analysis what to do to make Ghana developed. When I listen to OkuZeto Ablakwa saying there are stopping the allowance to allow many students to get admission to the college when student have graduated the college since 2012 and they are in the house without a job and he could not analyze this then we have a long way to go.
Ato Forson is there making all the noise when he was in the ministry of finance they could not employ nurses and teachers and just within 100 days the Competent president Nana Akuffo has given clearance to employ all the nurses and the teachers. I think they should have been making press conferences to acknowledge the emergency solution to the problems there created and could not solve for years, wisdom.
Nana Addo has gone beyond his critic of not a presidential material to unifier of the nation, when NDC government could not even invite their own founding father to the flagstaff house President Nana Akuffo Addo has invited all the former presidents to the presidency. Wisdom
My question is do we have to vote in 2020 my simple answer is no he should just continue his presidential second term and I hope Ghanaians will agree with me. If NDC want to contest him then they should remember they will be relegated to third party opposition.
President Nana Akuffo Addo has been very consistency in his vision for Ghana and to complete his father's dream of developed Ghana. In his early years as a lawyer abroad he left that job abroad and returned home to fight for democracy and worn. His consistency in his choice of vice presidency for three consecutive times none of our presidential candidates has ever achieved this.
I will therefore ask EOCO to investigate the performance of the minority for and the money they took from national service registration, the teachers and nurses allowance and the ghost names in the government pay roll when the were in office to serve as a deterrent to them and the bad leadership of the NDC government.
The development of Ghana should not been seen as partisan but give credit to a leader who is experience, who is competent with excellent team of executives.
Thank God for our president.
Abongo Mashood
Interim chairman NPP Russia