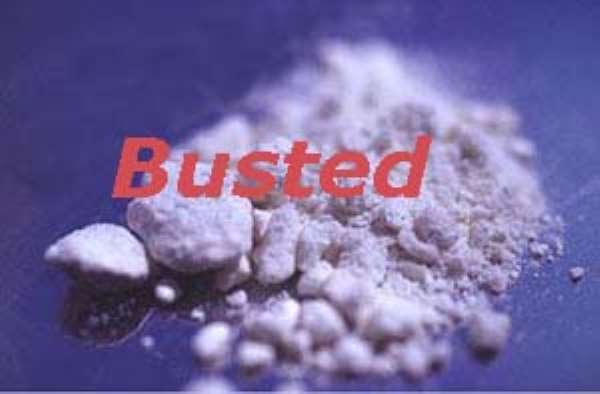 A GHANAIAN chief, Nana Akuamoah III, has been arrested in London for having 1.9 kilogrammes of cocaine concealed in his briefcase. Nana Akuamoah, chief of Akyem Ngyiresi in the Akyem Abuakwa Traditional area, was arrested on February 9, 2004 and is to serve a five-year jail term for the offence. Two out of the five-year jail term would be on parole after which he would be deported to Ghana. Nana Akuamoah, who claimed on his departure to be travelling abroad to transact business, was initially detained at H. M. Wormwood Scrub in London and later, on conviction, transferred to H.M . Blundefton. Information available to the Graphic indicates that Nana Akuamoah was given five years because he pleaded guilty, thereby reducing the duration of the legal process.
Unlike other couriers who make great effort to conceal such banned substances, Nana Akuamoah is reported to have left the brown envelope containing the cocaine on some items in the briefcase.
It is believed his chieftainship title might have made him to think that he would go through immigration with relative ease, without anyone drawing closer to him to ask questions.
The report indicates that when Nana Akuamoah was arrested, he started shivering and immediately admitted the offence.
The information indicates that the convicted chief, prior to his departure, had said he was travelling abroad to undertake important business assignments.
It also indicates that he said the assignment was of crucial benefit to his townsfolk such that when he returned, things would change for the better.
When contacted, the Executive Secretary of the Narcotics Control Board, Col Isaac K. Akuoku (retd), confirmed the story.
He said the status of any person arrested, either here or abroad, would not be enough to salvage him once found to be dealing in drugs.
He expressed the hope that this would send a strong signal to the nation wreckers to change their ways.