April 14, 2017
|
News Special Report
'Visa On Arrival', My Bitter Experience With The Ghana Immigration Service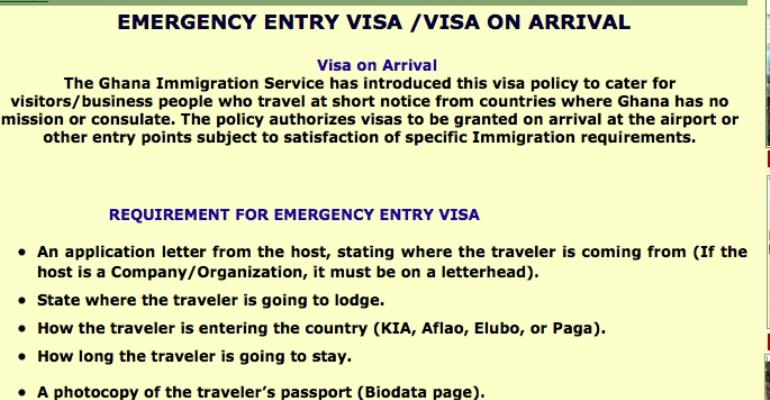 No, I don't need a visa to be in Ghana, and yes I am Ghanaian. But I work with a company that has foreign investors and partners, so every now and then; someone visits Ghana for meetings and to look out for other opportunities. I often apply for a visa for those that come from regions who do not have a Ghanaian mission or consulate. And it has always been a smooth process until I recently applied for one again!
After almost 3 weeks from our initial application, I could not get the visa on time and I still don't know why (or understand why). I submitted an application for the visa with the supporting documents, and the unnecessary bureaucratic hurdles started almost immediately. Although we submitted the flight details for our guest with our application, we were told that the cover letter did not state those details categorically. Because of that we couldn't submit our application that day.
My assistant went back the following day with a new application letter, this time stating the above details. This time our application was accepted. The officers at the Immigration Service cleared our application and we made payment for the visa application. We were told to come back some few days later to see if it was ready so we could pick up.
When my assistant went on the allocated date, he was told that the director had returned our application but had rather requested that we submit our tax return certificate. Since our company did not make revenue in Ghana, and all operations in the first year were funded from abroad, we got documents from the Ghana Revenue Authority to support that and resubmitted our application. And our application was again taken to the director.
In the last week leading to the expected arrival of our guest, my assistant went to the Immigration Service daily to find out if the visa was ready and each time we were told that director had not returned it. In fact, on one day we were told the Immigration Service had a durbar so we should come back the following day.
Our guest was meant to arrive on a Saturday so we desperately needed to get things sorted before, or on Friday. The uncertainty and anxiety was also piling up for our guest, who was coming from Nigerian to Ghana before heading off to Kenya.
On the Friday, my assistant went to the Immigration Service and sat there from morning till late afternoon. And when our application was finally returned from the director, it said we had not stated in the letter when our guest was departing from Ghana. Meanwhile our letter stated that Mr ABC would be travelling to Ghana from D to C dates.
From the explanation my assistant gave, it came down to semantics and because we didn't say our guest would 'depart' on a specific date our application could not be approved. And yes I even had attached flight itinerary from Lagos to Accra to Nairobi.
So how can Ghana attract foreign investment if this is the stress one must go through just to secure a visa? The time wasted, the money spent going back and forth to the immigration service, and the frustration was just unacceptable.
We kept hearing that there had been some new changes, which made the usually smooth process hell for us this time. But the question is, if an institution goes through reforms, should we be the ones to suffer for it?
And just for laughs… on the Friday my assistant was told to come for a receipt the following Monday for our application. So we thought it was a receipt for us to use to collect a refund for an application fee. Yes we wasted time and money again to go to the Immigration service on Monday to learn fees are not refundable. Haha haha laugh out loud!