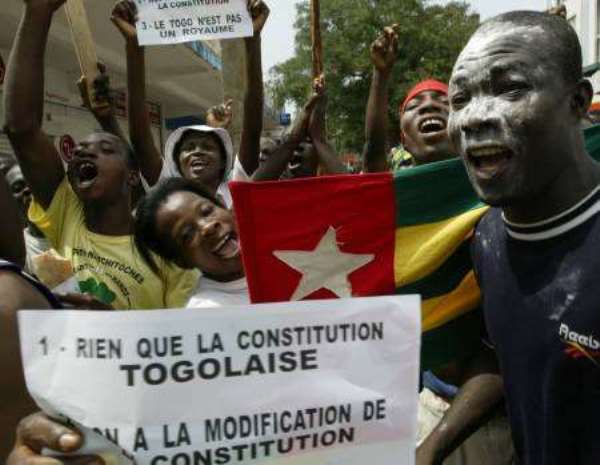 Dzodze-Fenyi (V/R), April 29 GNA - A number of Togolese have started crossing the border to seek refuge in Ghana following the political upheaval in that country.
About 100 of them with or without belongings have located at Dzodze-Fenyi in the Ketu District of the Volta Region.
Security agents at the Boarder told the Ghana News Agency at Aflao that another group of 400 had arrived in Ahamansu also in the Volta Region while a lot more had moved into Ghanaian villages and towns. Those at Dzodze-Fenyi include 15 children, 78 women and seven males. Some of them are very old. Benevolent Ghanaians have taken some of them into their homes while others are putting up at the Fenyi Saint Anglican School Compound.
Those on the school compound said some are members of the local community had been supplying them with food while other said they were fending for themselves.
Mr Baba Issahaku Iddi, Second in Command of Immigration at the Akanu Boarder Post, near Dzodze-Fenyi, who was taking the refugees through a formal registration exercise, said his outfit heard of their entry on Thursday.
He said more were believed to be entering the country and many moving into towns and villages across Ghana where they have relations. Mr Iddi said there were no plans yet for assistance to them. Mr Linus Koffie, Ketu District Chief Executive, visiting the refugees on Friday told them to remain calm and that the assembly would liaise with the United Nations High Commission for Refugees and the Government to take a decision on them.
Violence has engulfed Togo since the declaration of Faure Gnassingbe as the winner of last Sunday's Presidential Election. A number of people have been killed.
Meanwhile, Aflao remained calm with normal business across the frontier moving steadily following the re-opening of the Boarder on Thursday. 29 April 05