'Disband Vigilante Groups'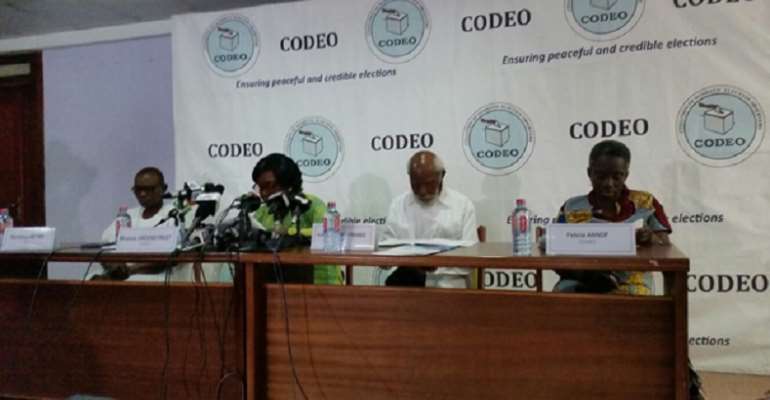 THE COALITION of Domestic Election Observer (CODEO) has asked the Ghana Police Service to, in the interest of national security, disband all politically affiliated vigilante groups in the country.
In a communiqué issued on Thursday in Accra after a two-day postmortem of the 2016 elections which cruised Nana Akufo-Addo to power, CODEO said they (vigilante groups) pose a mortal danger to Ghana's electoral politics and democratic development."
According to the four-page communique signed by the two co-chairs of CODEO, Professor Miranda Greenstreet and Justice VCRAC Crabbe, the existence of political vigilante groups is illegal.
CODEO's call is coming at a time when the National Security Minister, Albert Kan Dapaah has reportedly told lawmakers that there are no politically affiliated vigilante groups to be disbanded as there are no groups registered as such.
"There are no legally registered political vigilante groups in the country, and for that matter, there are no such groups to be disbanded," the Minister was quoted to have said while answering a question in Parliament posed by Member of Parliament for Asawase on what the ministry is doing to disband political vigilante groups.
But CODEO charged that "The leadership of the NPP and the NDC who are largely responsible for the emergence of these groups in the 4th Republic should own up to their responsibilities and work together with the police to disband all politically affiliated vigilante groups."
The Azorka Boys of the opposition National Democratic Congress (NDC) and NPP's Invincible Forces, have been a major source of worry to many Ghanaians, especially when their respective parties win power.
Last month, police arrested leader of pro-NPP vigilante group Delta Forces after an attack on a security coordinator who had just been appointed.
The vigilante groups reportedly terrorize members of the losing party, and destroy or seize public property.
CODEO said "in the medium to long-term, there should be a concerted effort amongst key election stakeholders to make the Inspector General of Police independent by insulating him/her from political interference by securing his/her tenure across regimes and ensuring such appointments are transparent and consultative."
Other Concerns
Meanwhile, CODEO has raised other concerns relating to the conduct of the 2016 general elections, calling for major reforms to be made by all election stakeholders particularly the Electoral Commission (EC) to ensure improvement on the organizations of future elections.
According to CODEO in the communique, "mistrust and suspicion still exist between the EC and some political parties. EC's lack of transparency and engagement with political parties and candidates on some electoral processes may be the cause for this."
"Issues of exclusion still remain in terms of opportunities for women in the political and media space during election," it said, lamenting that "vote buying and selling bedevil Ghanaian elections. The continuous and uncontrolled abuse of incumbency during elections is of major concern."
Furthermore, it said "enforcement of electoral rules by the EC and political party accountability remains weak."
It has therefore urged the EC, the Inter Party Advisory Committee (IPAC) and other stakeholders to work together to amend PNDC law 284 to set a six-month period for campaigning during each year of presidential and general elections, as part of efforts to minimize cost, check incumbency abuse and help regulate campaign financing."
"In the short term, the EC must consider an appropriate scientific and internationally acceptable methodology for auditing the current voter register to ascertain particular areas of challenge for redressing."
BY Melvin Tarlue