We Saw The Lawlessness Of These Vigilante Groups Coming But We Played Politics With It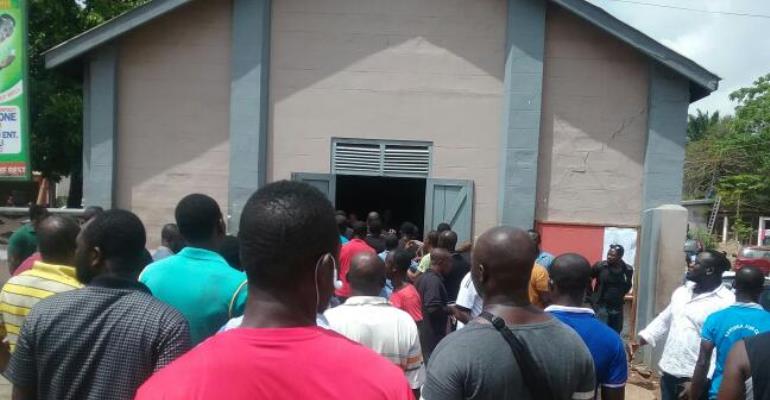 Democracy in Ghana is increasingly breeding lawlesness because the top brass of our security services have allowed themselves to be use and be controlled by politicians to satisfy their own interests instead of national interest. The politicians are turning this country upside down whilst we look on because we have lost our sense of objectivity and fear to say the plain truth that hurt but heals. Too much abuse of political power and the centre is fast falling apart.
The very first day that Barrack Hussain Obama, the immediate past president of the United States of America arrived in Ghana, the first thing he told us is to strengthen our institution if we really want our democracy to work effectively. Typical of Africans, we have since turned it into slogans at the least opportunity that our leaders get to talk at any public forum but have never shown commitment by taking the pragmatic steps to ensure that our institutions work particularly the security services and for that matter the police. Public institutions are empowered by actions not words of mouth particularly those from untrustworthy politicians.
We are in a country that members of opposition political parties demonised every public institution and publicly denounce their trust and confidence in such institutions even though they are seeking to lead this country which cannot function without those institutions they have demonised. How on earth can certain individuals sit down and bring some youths together and train them in the name of private security under the guise that they do not have confidence in the state security and we condoned it? How sure were that these hoodlums were going to be regulated properly by security tenets? We are now seeing how we failed ourselves and how we are nurturing rebels in the name of vigilante groups.
Nobody should tell me that we did not see this coming? We saw this lawlesness of the Delta Forces, Invincible Forces and all the other forces coming. We saw it with our naked eyes but we played politics with it to the convenience of the politicians because they have the monopoly to decide what happens in the security services and how they should operate at times. At that time, we played emotional games and sympathise with the NPP and made it appeared as if they were being persecuted by the security services particularly the police on the orders of the ruling government.
We can conclude that the vigilante groups are causing more harm than good to the NPP which at the time of opposition could have just disassociated themselves from these hoodlums to save their image in order to enjoy the goodwill of Ghanaians. I am very sure that the lawless activities of these miscreants in the name of Delta Forces and other forces has started giving the president a headache because their activities are becoming increasingly lawless and uncontrollable and that is a campaign message to the opposition who are counting their loses from the massive defeat during the last presidential elections.
We have reached the age where party foot soldiers threaten security officers with impunity particularly officers who are not allowing them to perpetuate their criminal activities just because their government is in power. It's happened during Rawlings, Kufour, Atta Mills, John Mahama and now it is getting worse under Nana Akuffo Addo.
The NPP then in opposition approved the actions of the the Invincible Forces and other forces and claimed ownership that indeed they are their private security wing. Every one who had 6 months basic police training like I did should be able to envisage that the actions of the Invincible Forces and all the other forces will breed into lawlesness as we are seeing today. You don't need a security expert like Dr. Kwesi Anning to come from Kwesi Annan International Peace Keeping Center to tell you that we are breeding lawlesness. It's just a matter of common sense and not any philosophical thinking.
I was shocked that time when people were brought from South Africa to train youths and of course we played politics with it and left it to die a natural death by deporting the South Africans in a very controversial circumstances. The NPP at that time kept saying they cannot trust the police service of which today they are controlling by virtue of the fact that they are in government and that should tell our politicians that they will all come and go but our institution will remain. Very soon the NDC in opposition will also start to say that they cannot trust the police service and other public institution and that has been the days of our lives in Ghana with our politicians who are evil and mischievous at times.
Since the NPP won this election, we have seen how treacherous these vigilante groups have been and what they are capable of doing in future if not checked. From closing public offices and ceasation of toll booths, assault on police officer at the Flagstaff house, beating of government appointee and invading the court to free prisoners in lawful custody should fast send signals that these vigilante groups are gradually metamophosing into rebels and we should be ready for the worse if we don't tame them now.
It is the the NPP which brought them and they have the machinery to tame them particularly now that they are in power. All the security apparatus is at their disposal to tame these guys if they really want to. What happened at the Kumasi Circuit court is an assault on the democracy but we allowed it because we saw it coming but we played politics with it.
One day these vigilante groups will prevent a government which has lost elections to hand over power and trust me that our beginning to the end will start from there.
I am just a police lance corporal airing my opinions and views in democratic Ghana so nobody should fault me but we should rather be worried about how our democracy is being assaulted under the watch of our security services.
Ahanta Apemenyimheneba Kwofie III
[email protected]
#Ahantadiaries_07_04_17