JCI, Katanga Hall support Kwadaso Cluster of Schools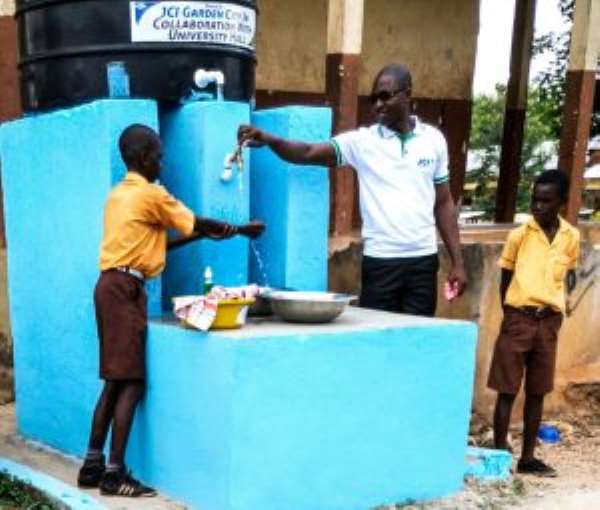 The Garden City chapter of the Junior Chamber International (JCI) and the University Hall, also known as Katanga Hall, of the Kwame Nkrumah University of Science and Technology (KNUST), have jointly installed a 1,800 litre poly tank reservoir for the Ohwimase MA Primary and Junior High School (JHS) at Kwadaso in Kumasi.
The project is a collaboration of the JCI Garden City and University Hall previous needs assessment results which suggested that students of the Ohwimase MA Primary and JHS face unparalleled water challenges, as a result of which they have to travel to the next community for potable water, which situation exposes them to numerous harm and drudgery, thus taking a toll on their academic and other co-curricular activities.
The JCI Garden City is noted for undertaking numerous sustainable developmental projects, aimed at solving societal challenges, in partnership with like-minded identifiable groups and institutions in our communities, while the University Hall (Katanga) is an all-male hall of residence of KNUST.
The hall is known for undertaking or championing the provision of numerous social intervention projects within the Kumasi Metropolis, hence the project is also meant to promote sanitation and hand washing education, which aligns with good health and well-being, as the third Sustainable Development Goal (SDG) of the United Nations.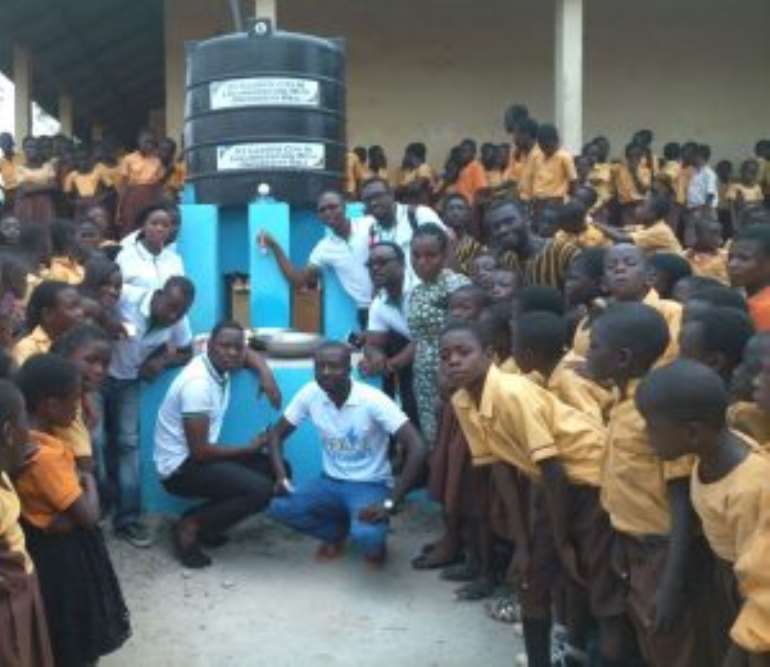 Under the collaboration, a professional nurse has been hired by the two bodies to educate, mostly the students and staff, on the best hygiene procedures for maintaining clean hands to improve personal hygiene.
Handing over the facility over to the school, the JCI Garden City President, Mr. Gideon Owusu Yeboah, admonished the school to develop a maintenance culture to enhance the lifespan of the setup.
Mrs. Adwoah Adyei Boahene, Headmistress of the school, who was full of praise for the kind gesture, said the support was a timely solution to their water problem, and assured the donors that she would ensure that the facility enjoys maximum usage and enhanced lifespan.
Following the assurance by the Headmistress, five students have been appointed as sanitation prefects, and charged with the responsibility of managing and regulating patronage of the setup.
Pix 1: The commissioned 1,800 litres poly tank water reservoir
Pix 2: The students pose with their benefactors after commissioning of the facility
Stories from Sebastian R. Freiku