MiDA Organises Procurement Workshop For Prospective Bidders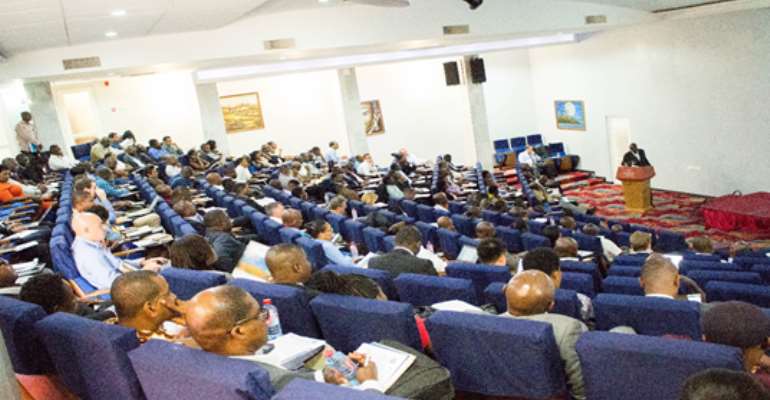 The Millennium Development Authority (MiDA) has organised a one day procurement workshop for over 150 participants in Accra.
The workshop sought to orient the participants on MiDA and Millennium Challenge Corporation's (MCC) Procurement Guidelines, Solicitation Documents and also present procurement opportunities available under the Power Compact Programme.
The participants, who comprised trade associations, financial institutions, consulting services, automobile, construction, power and electrical, were drawn from both local and international organisations.
They represented businesses that hold interests in bidding for contracts under the Ghana Power Compact Programme. Also present were senior executives from MiDA and the heads of the Millennium Challenge Corporation (MCC) team in Ghana.
Ing Owura Kwaku Sarfo, Chief Executive Officer of MiDA, explained that the workshop would expose participants to a broad understanding of the bidding processes for Goods, Works and Services as well as provide an opportunity to learn and build on their existing knowledge in order to improve on the quality of their bids and proposals.
The Resident Country Director of MCC, Ms Deidra Fair-James, traced the long standing partnership between Ghana and the MCC. She remarked that the corporation is excited about the workshop and its prospects to enhance the capacity of all bidders. She urged participants to take advantage of the session to network and also deepen sustainable partnerships among themselves.
MiDA has received over 200 applications from interested participants from both local and foreign organisations. As a result MiDA is considering arranging other similar workshops in due course for participants who could not be part of the just ended programme.
The Power Compact, is a treaty signed between Ghana and the United States of America represented by the MCC, and seeks to support Ghana's power sector with US$498 million in grant funds. Six projects make up the Power Compact; i) the ECG Financial and Operational Turnaround Project (EFOT), ii) The Northern Electricity Distribution Financial and Operational Turnaround Project (NFOT), iii) Access Project, iv) Energy Efficiency and Demand side Management Project v)Power Generation Sector Improvement Project and vi) Regulatory Strengthening and Capacity Building Project. Each project has a set of activities designed as interventions to address a specific constraint in the country's power sector chain.
Under the Power Compact, public organisations such as the Electricity Company of Ghana (ECG), the Northern Electricity Distribution Company (NEDCo), Energy Commission (EC), and the Public Utilities Regulatory Commission (PURC) would receive grants to implement various infrastructure and reform programmes aimed at enhancing the quality of service delivery within the power sector.