Samson Lardy Anyenini survives fatal car crash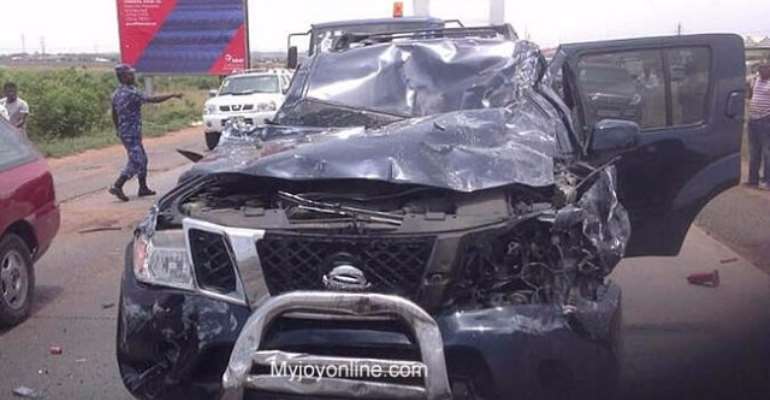 Host of Joy FM's flagship news analysis programme Newsfile Wednesday survived a fatal accident which killed one person instantly.
Samson Lardy Anyenini was returning to Accra from Tema when the accident occurred on the Accra-Tema Motorway.
Details about the accident are sketchy but another vehicle heading to Tema is believed to have skidded off its lane, somersaulted and tumbled on Lardy Anyenini's Nissan Pathfinder killing the driver of that car instantly.
On his facebook wall, Lardy Anyenini posted a picture of his mangled car with the inscription: "Pray - Saved by Grace. I was Accra bound after a court session in Tema. He was Tema bound. How his vehicle found itself on top of mine before it headed for the bush killing him I can't tell. All I saw was his car in the skies. All I realized was I was alive after it landed on mine. Thanks to Dcs Caesar, Serwaa and colleagues @ 37 for the special swift care. Dr says I am just fine. #God #ScariestMotorwayExperienceEver ."
The lawyer has not been available for comment. The identity of the deceased person is also yet to be ascertained.
More soon;
Story by Ghana|Myjoyonline.com