Ban Surface Mining … Media Coalition Tells Gov't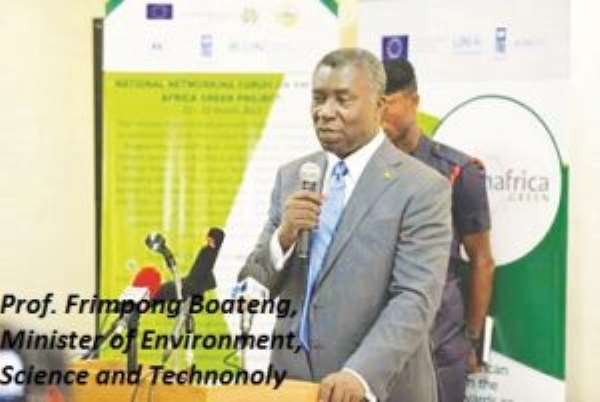 The Managing Director of the Graphic Communications Group, Kenneth Ashigbey, has suggested to the government to place a ban on both alluvial and surface mining to save the environment from further deterioration.
According to him, though the government had shown signs of fighting galamsey (illegal mining) activities, the fight cannot be won whilst others have licenses to operate surface mining.
He argued that the mess that had been created as a result of surface mining overwhelms the benefits the country derives from its mineral resource excavation.
He charged the government to listen to public outcry against galamsey, and that Ghana would become extinct if these illegal miners destroy all the water bodies and farmlands.
There is a national phobia that access to potable drinking water will become a national security problem if state actors do  not move fast to have galamsey banned immediately.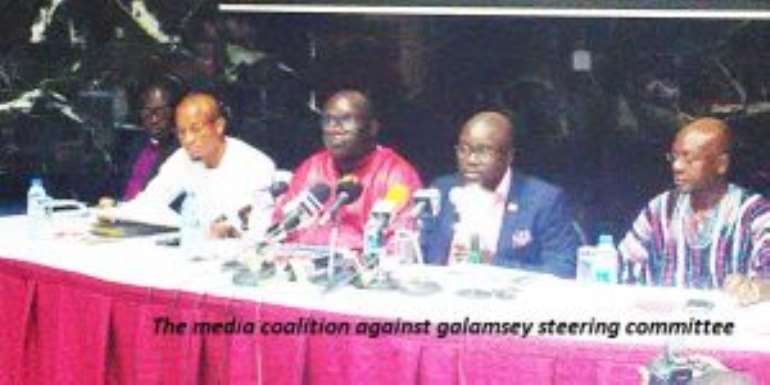 Speaking at the launch of a media coalition against galamsey in Accra yesterday, Mr. Asigbey blamed the galamsey menace on the failure of leadership to deal with the issue from the very onset, cautioning that if things continue the way it is going, Ghana would disappear from the earth's surface in the near future.

The President and the Minister of Lands and Natural Resource had already launched vigorous campaigns to curb galamsey activities. This, the Graphic MD lauded, and called on the media   and general public to support their efforts.

He could, however, not figure out how the security personnel allowed Chinese, Malians, Nigerians and other nationals to import complex mining equipment and offensive weapons into the country to destroy the environment. "How were they able to license their guns?" he asked.

As part of the coalition's strategies to enhance government's efforts to stop galamsey, the media will investigate and uncover all the bigwigs behind the illegal miners, name and shame them for being delinquents, instead of good citizens, he said.

The President of the Ghana Independent Broadcasters Association (GIBA), Akwesi Agyeman, on the other hand, called on the security agencies to equally treat galamsey operators as 'armed robbers', as their activities posed a threat to national security… "we are creating monsters, and I think they must be stopped," he said.

He urged the media to go all out to tackle galamsey, not by just reporting on it, but going a step further to ensure that policy makers actually ban their operations.

He said there would be town hall meetings in the affected areas in the Western, Eastern, Ashanti, Upper East and Upper West regions, where the communities, especially the youth, are engaged in galamsey would be educated.

The GIBA President also announced that the coalition would incorporate signature signing campaigns as a way to raise awareness, and commit individuals and entities to support the fight to save the country's heritage.

Minister of Lands and Natural Resources
The Minister of Lands and Natural Resources, Peter Amewu, pledged his support for the coalition, and told the media fraternity that the President himself was passionate about the environment, and would do all he can to stop galamsey.

He also agreed that galamsey operators be referred to as 'armed robbers', for illicit mining is a major national security issue.

However, the Minister didn't agree to the outright ban of alluvial mining, because some companies are complying with the law.

Minister of Information
Mustapha Hamid, Minister of Information, urged the media to go all out to campaign against galamsey, which is posing a serious threat to food and water security in the country.

He also reiterated the President's commitment to stamp out galamsey, and charged the media to support the government when it starts the crackdown.

The Minister raised the point, because, "it is the same media that tells government that people will lose their livelihoods."

By Bernice Bessey