'Maritime industry has space to employ'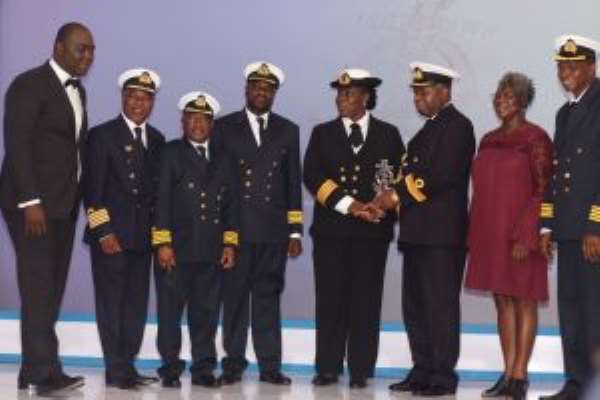 The first ever female ferry captain, Georgina Joppa, is calling on the youth to opt for carrier opportunities in the in maritime industry as it has enough space to employ them.
According to her most of the youth in the developed countries  have lost interest in marine jobs because of ICT and  that should be an opportunity for countries like Ghana to fill the gap that is being created on daily basis.

She was  emphatic in saying that the maritime work is one of the most paying and rewarding job in the world and as a result people gets the opportunity to learn how to be content and discipline, saying "the truth is the industry pays well, so you are not compelled to steal or to be corrupt."
Captain Joppa encouraged her female counterparts especially the young ones not to leave the ferry work for men alone for they could also earn a living from there.  The first ever female captain was speaking at the maiden edition of Ghana Maritime and Shipping awards ceremony held in Accra last weekend.
She further encouraged the youth  to take advantage of the job opportunities available in the industry to recreate themselves.   Caption Joppa who was acknowledged and awarded for her immense role in the industry, thanked the organizers and prayed for better years ahead of the maritime sector.
Bergis Kojo Frimpong, Chief Executive of Officer of ' Ninetyeightz', the event organizers said the maritime industry has contributed immensely to the socio-economic scale of the country by providing jobs and revenue for development.
"on the promise of our successful Aviation Awards last year which was held at the Movenpick Ambassadorial Hotel, we have been inspired by the positive feedback and deem it expedient in our little stride to keep identifying the various sectors of the Ghanaian economy that continue to immensely contribute towards the development of our dear nation, Ghana yet remain unsung heroes," he said.
At the event night, companies such Apex shipping Commercial Company Ltd, Damco Logistics Ghana Ltd, and McDan Shipping Company Ltd were recognized and awarded as best Freight Forwarders of the year.
Redsea Maritime Service received award for Sustainable development for the year and best shore holding company of the year.
Best Environmental/waste Management Company of the year went to Zeal Environment, Stevedoring Company of the year, was received by Agilent Maritime Service, and best company in marine insurance was bestowed on Star Assurance company ltd.
Other categories are company with best safety and security record of the year which Maersk line Ghana Ltd won, technology/innovation awards was received by CONSHIP, GT Bank, Best company in import and export finance and, Graphic Communications was awarded best media house in Maritime reporting of the year.
By Bernice Bessey