Anane Will Send Us All To Jail & Exile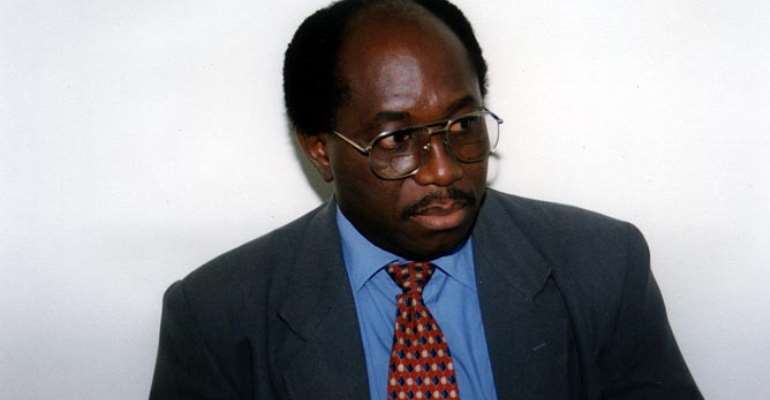 KLM, 4 others promised to take care of the $180m Ghana Airways debt but ... Accra, April 27, Chronicle - Dr. Richard Anane, the all-powerful swinging adulterer, Publisher of the have-a-go tabloid, The Point, and disgraced Minister of Roads and Transport, is the focal point of a huge conflict raging within the corridors of power for the mind and ears of the president, on how the ruling New Patriotic Party (NPP) is going to hold on to power in 2008 and beyond. This is in the light of manifest mass public disaffection arising from intimations of corruption, culture of arrogance amongst government officials (see inside page) that is alienating the rank and file and the public from the party, and the onset of despair among a large section of disappointed and unrecognized supporters and voters. Matters have now come to a head, over the sale of the Railways and now the most sensitive of all, Ghana Airways, in a deal wrapped in black opaque polythene bags and parcelled off to a group of Mormons, Ghana International Airways (GIA) who have announced that they are recruiting staff from the premises of Ghana Airways, even though they claim they have absolutely nothing to do with Ghana Airways. An examination of available documents in possession of The Chronicle and vetted for authenticity, show that Dr. Anane told one lie after the other and perjured himself regarding the status of GIA in similarly clever fashion as he did to the Parliament of Ghana during his vetting when The Chronicle, combined with crusading NPP MP for Asikuma-Odoben-Brakwa, Hon P.C Ofori, to stop his appointment because of his corrupt conduct. Chronicle gathers that the forces of light and transparency may be getting their way because the President is getting first hand information through his press handlers, who fax directly to him in Jakarta and elsewhere, information that is put out in the credible newspapers before they get blocked by his senior staffers. The argument is that the NPP must survive strong enough to continue a Kufuor Presidency, and that means corrupt Ministers who are soiling the Presidency must be booted out to prevent tagging the Presidency with a corruption label. Yesterday, Joy FM, a station that has been doing a great courageous job on the Dr. Anane affair, exposed the Minister's lies again. He introduced another airline, Ethiopia Airways and said a deal with Ghana International Airline (GIA) had always contained a component which referred to a partnership with Ethiopian Airways. Documents available to The Chronicle show that this was never the case. Anane stuck to this line until some enterprising footwork by Joy FM reporters to Addis Ababa headquarters of Ethiopian Airways, exposed him. The reputable African Airline was adamant that they had never had an agreement with GIA until they started inconclusive discussions last October.
But the real beef in the unfolding scandal is how Anane told everyone that the Government of Ghana had ring-fenced the $180 million millstone which was dangling around the neck of Ghana Airways, also that GIA, his bidder of choice, was the only legitimate contender which had any credible programme to fly the national flag as the official carrier. The truth, Chronicle has since established was that, every other one of the companies that put in bids to acquire Ghana Airways had definite arrangements to take care of the $180 m debt which has since topped the $190 million mark. Indeed, Chronicle gathers that a report prepared by Cal Bank's Mr. Frank Adu and his team had presented a report to the Government, puncturing holes in the GIA deal. It is also a matter of verifiable record-and Chronicle has the records- that the best offer was made by KLM/Kenya Airways which contained plans to take care of the distressed carrier's debt. The four others, include one by Global Air, now absorbed by Afra Airlines, a Ghanaian registered company with a majority Ghanaian shareholding. One of the minority partners, a New York-based Ghanaian couple, Mr. and Mrs. Ackouku is in court with the promoter of the carrier, Luke Butler on the issue of shareholding and partnership. Anane tried to suggest that there is more than one document in circulation, but Chronicle can confirm independently that the original document is the legitimate one that was submitted by him and reviewed by a panel including Price Waterhouse Coopers and the board committee of Ghana Airways. Surprisingly, it emerged that there was no bid document which detailed the specifics and so, virtually, there was no transparency. Nevertheless, Ghana Airways, after the embarrassment of Nationwide of South Africa also superintended by Richard Anane, withdrew it ignominiously in 2003. Now, the $180m plus debt falls squarely on the shoulders of Ghanaian taxpayers, a development that angers Australian-born Luke Butler whose Ghanaian wife Simone holds about 30 percent stake in Afra Airline. Ghana Government has committed to pay the $180 million, according to Anane when reputable airlines like KLM had offered to restructure the debt. In actual fact, GIA had proposed Sentry Financial Services as the group that was going to restructure the debt, so the fact that Anane is now singing a different tune in the face of hard documented evidence shows he is hiding his real ulterior designs. But Anane was emphatic yesterday that despite all these lingering questions, 'The GIA deal is the right one, and the GIA deal WILL go through' even though they have so far scrambled only $2.9 m as the deposit towards the deal and are jumping round looking for money. Chronicle can report that there are advanced plans to prefer perjury charges against Anane soon by the NDC minority, as senior NDC generals have been passing documents and records on the issue back and forth and have had lawyers poring over documents. Mr. Luke Butler himself who told the press last week that he has been having problems with his licence following questionable disruptions from National Security, suspects that the blocking of his $8 million investment is traceable to Anane. Butler has fired off a letter to the President, pleading with him to intervene because there are 100 jobs on the line plus 40 others who are already working at the airline, which has been stalled from flying. Butler who expresses strong faith in the 'golden age of business' mantra promoted by President J.A. Kufuor is optimistic that the president who just returned from Indonesia yesterday will not allow the investment to come to naught. Senior Staff Association President Richard Masuire yesterday expressed alarm that Ghana Airways staff had not been told anything about what their future holds even though GIA is using the offices of the Chief Executive of Ghana Airways. A senior NPP businessman whispered to Chronicle yesterday that, 'I do not want to go to jail for this, but Anane must go, else we go into exile. This stinks!' Luke Butler, the Australian trouble-shooting aviation business tycoon who has survived purgatory in Brisbane courts and is still fending off brushes with business rivals, told The Chronicle that Ghana Airways should not have collapsed. He felt that it could have been saved and that it is imperative the assets of the airline which was declared bankrupt by Anane should be catalogued and put in the hands of international reputable liquidators like Peat Marwick.
Part two tomorrow.