President begins monthly regional tour in Ashanti Region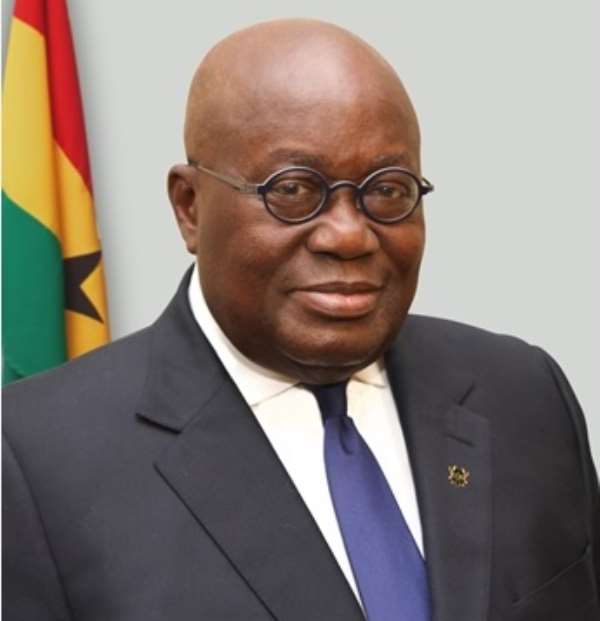 By Ken Sackey, GNA
Accra, March 31, GNA - President Nana Addo Dankwa Akufo-Addo, in the bid to maintain constant interaction with Ghanaians would be spending the weekend in the Ashanti Region.
The move, which the President intends to institutionalise would see him spend a weekend in a region every single month of his tenure in office in order to acquaint himself with issues confronting a particular region.
He would also leverage on the programme to interact with citizens to seek first-hand views and concerns and gather ideas to enhance the governance of the country.
The tour of the Ashanti Region will kick-start the first in the series of the monthly regional visits. The President is expected to be in Kumasi at the close of Friday, March 31, 2017 and would be engaged in various activities over the next two days.
He would return to Accra on Sunday, April, April 2, 2017.
Whilst in the region, President Akufo-Addo would pay a courtesy call on the Ashantihene Osei Tutu II hold talks with leaders of transport unions to find ways to address issues of the sector and discuss the recent concessions made by government in the Asempa Budget to ease transport cost in the country.
The President would also visit the Komfo Anokye Teaching Hospital, and apprise himself with the problems of the health institution, and what government could do to salvage particularly, the abandoned maternity block, to reduce infant mortality in the region.
He would also call visit the Kumasi Central Market to interact with traders and customers.
President Akufo-Addo would as part of the tour, hold an encounter with the media in the region attend church services at the Saint Cyprian Anglican Church and the Bantama Methodist Church.
He would also meet the Muslim community at the Central Mosque in Kumasi.
The President would then conclude the tour by addressing a rally organised by the Ashanti Regional branch of the New Patriotic Party on Sunday afternoon after which he would leave for Accra. GNA