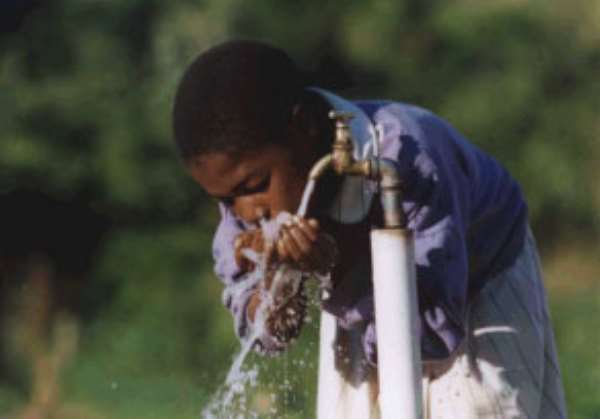 Tema, April 26, Graphic - The minister for works and housing, Mr Hackman Owusu-Agyeman, has said the Government plans to meet the increasing demand for safe drinking water and sanitation facilities throughout the country as part of the policy to alleviate poverty. He said for that reason, the Government was pursuing a number of policy options which included facilitating the provision of safe water and related sanitation services for villages and small towns through the Community Water and Sanitation Agency (CWSA). The minister also mentioned private sector participation (PSP) in water delivery in large towns and cities.
Mr Owusu-Agyeman said this in an address read on his behalf at the second meeting of the Ghana-Burkina Faso Joint Technical Committee (JTC) on international water resource management (IWRM) in Accra yesterday.
The meeting was to exchange experiences on the management of the shared water resources of the Volta Basin and the implementation of the IWRM in the two countries.
Mr Owusu-Agyeman stated that under the PSP programme, the private sector would be involved in the provision of safe water supply in order to improve its delivery to the people.
Commenting on the objective of the meeting, the minister said the attainment of the Millennium Development Goals (MDGs) target of reducing by half the population without water by 2015 by the two countries rested strongly on the sustained availability of freshwater from the Volta River.
He said water from that source could either heighten tension between the two countries or serve as a powerful incentive for co-operation and benefit sharing.
Mr Owusu-Agyeman, therefore, commended the International World Conservation Union (IUCN) for sponsoring the workshop.