Air Force Wives Organisation Celebrates International Women's Day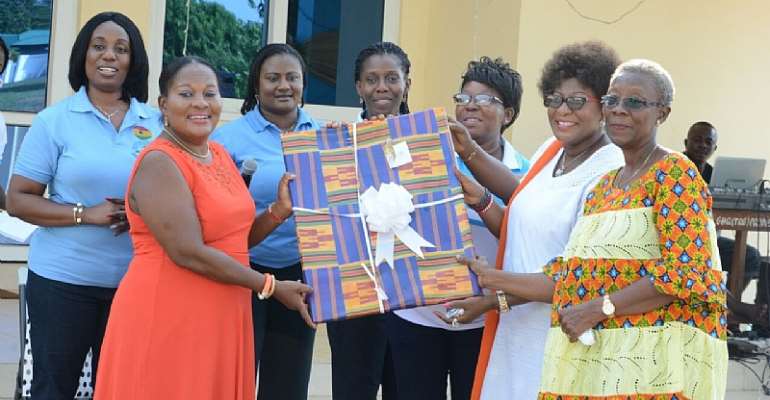 March, 2017: The Accra Chapter of the Air Force Wives Organisation (AWO), of the Ghana Air Force, has joined women around the world to commemorate this year's International Women's Day (IWD).
International Women's Day is a global celebration of Women, observed on the 8th of March every year, which brings to light their political, social, economic and cultural achievements, while highlighting gender equality and rights.
The event was held at the AWO Secretariat at Burma Camp in Accra, with a talk on the theme "The Virtuous Woman: How to be and remain a Virtuous Woman".
The occasion was also used to celebrate and send off one of the group's longest serving and senior-most members, Mrs. Margaret Sampson-Oje, wife of the immediate past Chief of Defence Staff of the Ghana Armed Forces.
The President of AWO, Mrs Hilary Arko-Dadzie, in her welcome address noted that women, no matter their economic or social status, contribute significantly to society, either in their roles as homemakers or as employees/employers at the workplace. "Indeed, women are the real architects of society. We are the glue that keep everything together, be it at home, at work or in the communities where we live", she added.
Acknowledging that there have been giant strides made over the years towards gender parity in all areas of life, she was of the view that there were still a lot of work to be done by governments, lawmakers, employers and authority holders to ensure that women all over the world are given equal opportunities and rewards for their work.
According to her, AWO decided to participate in this year's International Women's Day to remind their members of their role and responsibilities as women married to men in uniform and the impact they make in their lives.
The outgoing senior patron of AWO, Mrs. Margaret Sampson-Oje, on her part, urged the senior wives among the group to mentor the younger wives and foster relationships that would grow the organisation and promote its activities and agenda.
She appealed to the AWO leadership to consider an annual AWO Congress, involving all the three Air Force bases in the country, namely, Accra, Takoradi and Tamale bases, to promote togetherness, sharing of ideas on projects and to deliberate on a common agenda for the future of the organisation.
A counsellor and motivational speaker, Mrs. Stella Koranteng, who was the main speaker for the event, called on women to constantly feed their minds with positive thoughts, while assuring themselves that they are capable of managing their diverse responsibilities so as not to succumb to the frustrations of life. She advised members of AWO to foster the right connections in order to offer and receive the right mentoring, which will ensure success in life.
Also present were retired senior patrons; Mrs. Nafisa Kadri and Mrs. Aku Dovlo, current patron Mrs. Rosette Kwakye-Bekoe, as well as some senior Air Force Officers.
About AWO
AWO is an organization whose membership comprise of all wives of personnel of the Ghana Air Force. The organisation has been in existence for the past twenty-five (25) years with branches at the Accra, Tamale and Takoradi bases of the Ghana Air Force.
AWO's main aim is to provide a forum for meaningful and fruitful interactions for its members to help them better manage their lives and families whilst their husbands are away or busy serving the country.
Hilary Arko-Dadzie
President – AWO