Tema Traditional Council Urges Youth To Resist Non-Indigene MCE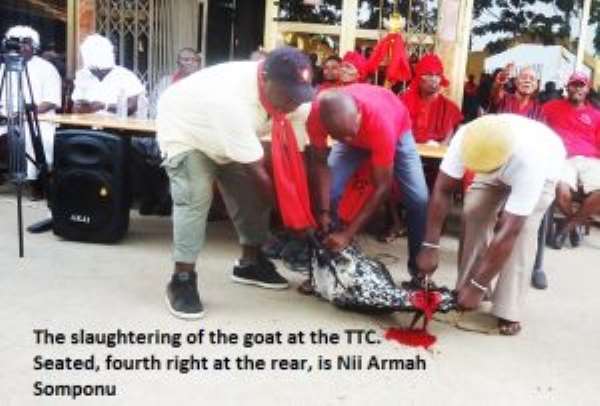 The Tema Traditional Council (TTC) has slaughtered a goat to demonstrate its un-readiness to welcome a non-indigene as the Tema Metropolitan Chief Executive (MCE).
The symbolism of the slaughtering, according to Nii Armah Somponu, Nii Shipii (Chief Warrior) of the TTC, demonstrates the anger of the TTC and the sour courtesies it would accord its non-indigene Chief Executive.
The slaughtering of the goat was done in the presence of a mass of youth, traditional priests and priestesses and youth warriors on the compound of the TTC.
The TTC Chief Warrior addressed a section of the media and the youth of Tema saying, "We wish to caution that if a non-indigene is imposed on us by the government, we shall fight back to register our discontent."
He said the TTC had presented five names of competent indigenes to the presidency; however, some visible developments were giving the TTC a cause to worry, fearing that none of their nominees would be considered by the presidency.
Nii Shipi argued that in the erstwhile government of former President John Kufuor, Samuel Evans Ashong Narh, an indigene was nominated as the Tema Metropolitan Chief Executive (MCE).
"This was a government of the New Patriotic Party (NPP). Therefore, we do not expect anything short of what the first NPP government did to honour Tema," he noted.
Charging the youth, most of whom were wearing red and displaying placards, some of which read: 'Ben Ashitey is the best for TMA', 'Patriots of Tema want a Tema indigene' and 'Give Tema Ben Ashitey'.
Nii Shipi stated that the TTC believed the actions of the three Members of Parliament (MPs) for Tema were putting roadblocks in its way.
He identified Titus Kwartei Glover, Tema East, Kofi Brako, Tema Central and Carlos Kingsley Ahenkorah, Tema West, Nii Shipii observed that the three MPs were hindering the TTC to have its matter concluded peacefully, without further delay.
It is in view of the hurdles and certain ill developments the TTC was previewed to that had stirred Tema to arise with such a symbolism of slaughtering a goat to honk their displeasure and sullenness, he said.
"We are going to resist any wrong move and we pray President Akufo-Addo will repeat what former President Kufuor did to honour us," Nii Armah Somponu concluded.
From Inusa Musah, Tema