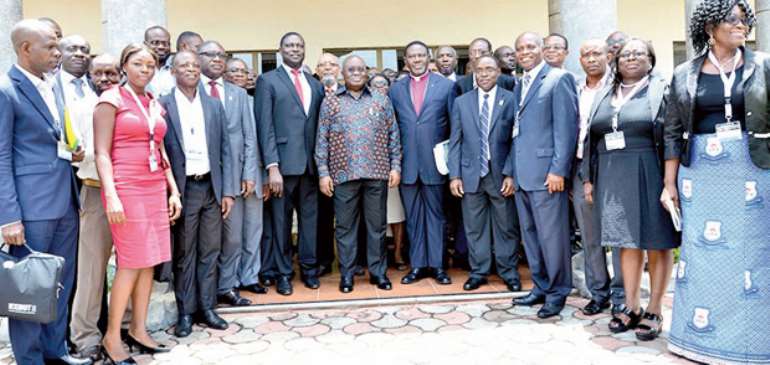 President Akufo Addo (middle) in a group photograph with the participants of ICEBUT
President Akufo-Addo yesterday expressed grave concern about the attitude of some Ghanaians to work.
Speaking at the International Conference on Entrepreneurship, Business and Technology (ICEBUT) which was put together by the Methodist University College Ghana (MUCG) in Accra, the president indicated, "Even though the primary focus of religion is the redemption of souls as the Christian churches have always emphasized, these days, we are in danger of getting things out of balance and allowing our lives to be taken over completely by a narrow interpretation of religion.
"Hard work, cleanliness, respect for the law, used to be important attributes of religiosity; hard work, the preacher men used to tell us, paid dividends. We were urged to give onto Caesar what was Caesar's and to God what was God's, miracles occurred, but they were not everyday occurrences. We were urged to work hard and that was the basis of success," he noted.
Concern
He however, noted with worry that "Today, an increasing number of people seems to think that success in all fields of endeavour is dependent on miracles and not hard work."
That, he said, is evident in the fact that "We come to work and spend the first hour and more, not on the job we are paid to do, but on prayers; we go to all night prayers and come to work the next day tired and unfit for work; we take out a week for every funeral and expect our businesses to thrive because we invoke the name of the Almighty."
For him, "…such a state of affairs and such a mindset cannot support a nation that wants to grow its economy and be prosperous. "Successful economies always depend on entrepreneurs running successful businesses."
Conviction
Much as he was eternally grateful to the Almighty God for his grace and favour that led to his electoral victory on December 7 last year – which saw him becoming President of the Republic – Nana Akufo-Addo noted with emphasis, "…there is the need to keep a proper balance at all times," whiles backing it with a quotation from the holy scriptures which says, "A false balance is an abomination to the Lord, but a just weight is His delight."
To this end, he insisted, "We cannot and should not continue to hide behind religiosity to indulge in the habits that have characterized our attitude to work," even though he admitted the fact that "The churches and mosques have a crucial role to play in the attitudinal change that I believe we need to build a new economy."
He has since taken his countrymen to task, "It is time to take entrepreneurship seriously."
On his part, the Presiding Bishop of the Methodist Church of Ghana, Most Reverend Titus Awotwe Pratt, was of the belief that among the several other factors that enable the creation of wealth, there's the need for what he called, "conducive political climate," a system of government which minimizes impunity, reduces corruption if not totally obliterated, promotes and encourages the rule of law and keeps education and its planning in the hands of experts, totally de-politicized.
By Charles Takyi-Boadu, Presidential Correspondent