Societe-General Ghana launches loans Promotion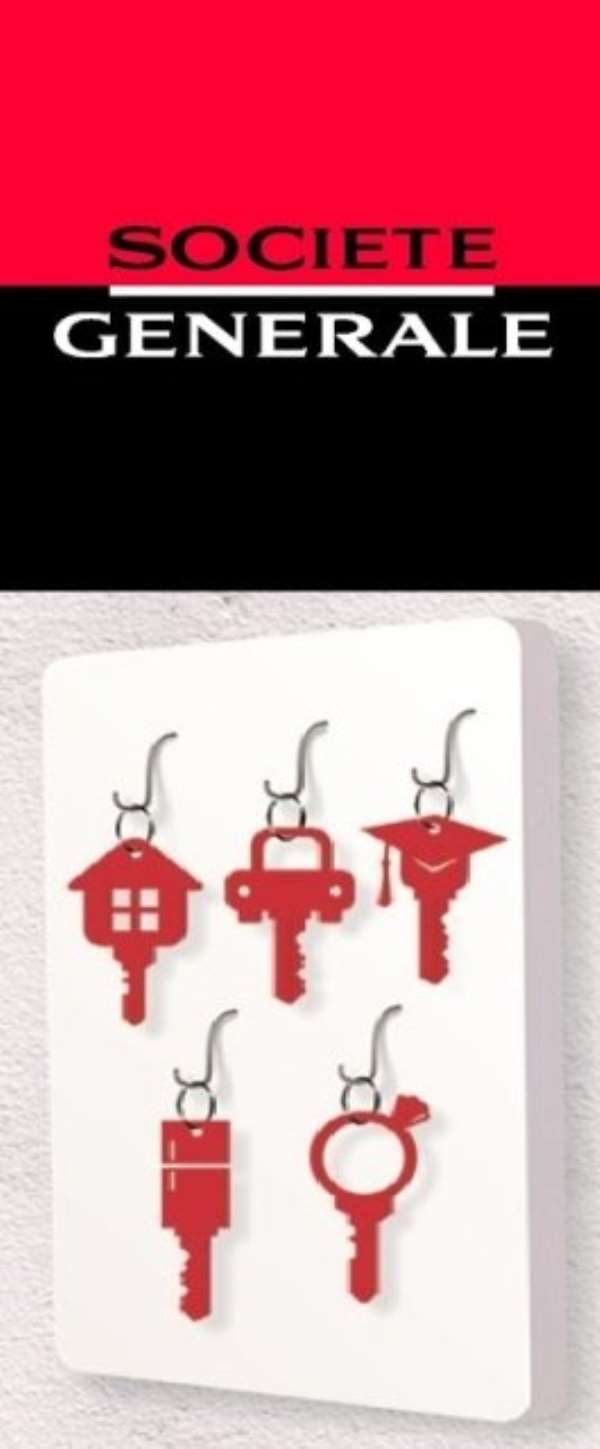 By Morkporkpor Anku/ Mercy Manukure
Accra, March. 24, GNA - Societe-General (SG) Ghana has launched a promotion dubbed: 'Unlock Your Dreams Loan 2017 Promotion' to give its customers extra support they need as they work to make their dreams come true.
The Promotion offers high competitive interest rates for its school fees loan, institutional loan, finance leasing, happy chat loan, happy home loan, happy auto loan and cash covered loan.
Mr Fred Addy, Head of Marketing Analytics, SG, Ghana speaking at the Launch of the product said the promotion was a follow up to the Unlock your dreams and Unlock Your Dreams Reloaded promotions which were launched to whip up customer enthusiasm and patronage in 2016.
He said 'as the Easter season approaches, SG wants to assist even more customers to make their dreams come true by offering a range of competitively low interest rate loans.'
He said during the promotional period, thus from March till June 30, 2017, relief credit loans, specifically, the most popular with their clients would be at fantastically low interest rate of 29 per cent.
He said customers could use these loans to fund rent, school fees after Easter holidays or dream building projects.
'Unlock your dreams 2017 is open to both existing and new SGG customers, who are salary workers, and have accounts with other banks can enjoy the benefits of this promotion by opening a current account with the bank, having one salary processed at SGG and providing six months statement from their bank,' he added.
Mr Addy said existing customers, who have loans with SGG could enjoy top-ups to their existing loans without being required to bring financial statements from their employers provided the bank had received recent finances from the employer in the last year.
Mr Kwaku Tweneboah-Koduah, Head of Retail said at Societe Generale Ghana said their goal was to become Ghana's preferred bank and the strategy 'we adopt to achieve this revolves around pleasing every customer by providing useful and innovative solutions to their banking and financial needs.
'This promotion gives customers of the bank the chance to get funds they require to get the extra push as they work to make their dreams come true.'
He said the promotion gave customers the chance to open a world of life-changing opportunities with amazing low interest rate loans.
He said it was their goal to increase their market share and strategy.
'This year we believe, unlock your dreams, will be the biggest loans promotion that will attract new discerning customers who need the extraordinary financial help this promotion seeks to provide and want to be with a bank that demonstrate a true concern for the welfare of its clients,' he added.
He said in 2017, this would continue to be a driving force and the promotion would give their customers something to tell their friends, families and colleagues about and motivate them to bring many more people to bank.
Mr Obed Hoyah, the Head of Mass Market under Retail, said SGG customers could borrow up to GH¢ 120,000.00 without a security base on loan product that they choose and up to 60 months repayment period.
GNA