Bawumia Pushes For Quick Fix Passport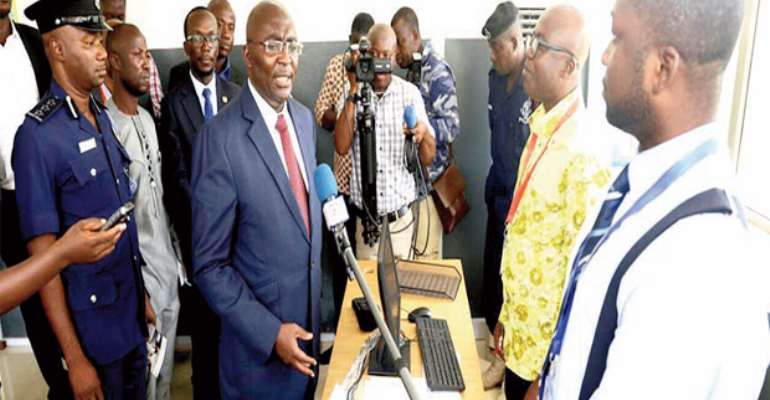 Vice President Dr Mahamudu Bawumia at the Paaports Office in Accra yesterday. Photo Credit: Gifty Ama Lawson
Vice President Dr Mahamudu Bawumia has expressed concern about the stress people, especially Ghanaians, go through just to acquire a Ghanaian passport.
"It's very clear that we need to move from the manual processing to an online processing of passports and we also need to make sure that every region has the capability to do the online processing, so that we abandon the manual, move to online and we can then have much quicker delivery of passport across the country," he said.
That was when he paid a surprise visit to the passport office in Accra yesterday.
The unannounced visit was to allow him the opportunity to know at first hand the challenges many Ghanaians go through in acquiring their own country's passport.
He was met on arrival by the Deputy Director of the Accra Passports Application Office, Samuel Ofosu-Boateng, who took him through the processes and procedures one has to go through in order to acquire a passport.
The man talked of the challenges his outfit goes through, using the manual way of processing of application forms.
Under the current circumstance, Mr Ofosu-Boateng indicated that they are able to process 150 passport forms electronically each day and 200 manually but said they would be increasing the figure to about 300 electronically a day in the coming days until machines are acquired and installed in the regions by June this year.
Some passport applicants who spoke to the vice president about their frustrations expressed serious concerns about the stress and unnecessary delays one goes through to acquire the passport.
One was the complaint that they have to go through long winding processes and queues for sometimes three days before they are attended to.
Speaking to the media moments after his interaction with the various stakeholders, Dr Bawumia could not but admit, "People are suffering too much just to get a passport."
He realized, "We only have one online processing centre in Ghana opened in November and that is here; but if we can do it across all 10 regions we believe that people will have their passports much quicker; I think this is what we are going to hold them responsible for and also provide the resources that are needed to allow the extension of these services across the country.
"I think people should not suffer this much just to get a passport; we will have to change that."
Dr Bawumia assured, "The good news is that the Foreign Minister is very much on top of this issue; the directors here are very much thinking about the changes that we want to bring on board and some of these changes are already beginning."
By Charles Takyi-Boadu, Presidential Correspondent