CAYE West Africa launched to spur entrepreneurship in West Africa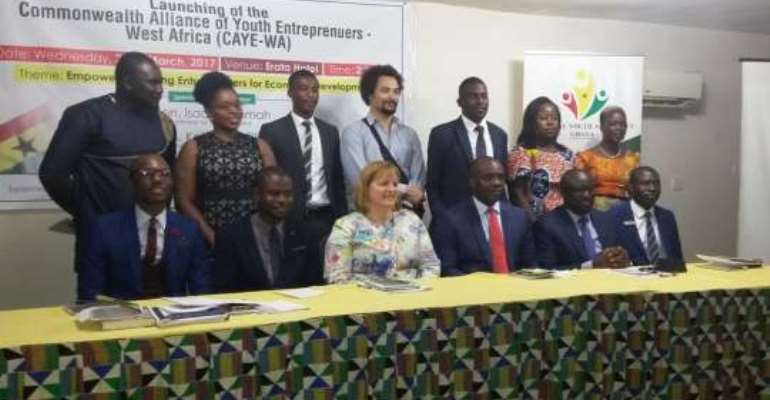 By Belinda Ayamgha, GNA
Accra, March 22, GNA - Mr Isaac Asiamah, the Minister of Youth and Sports, has launched the Commonwealth Alliance for Youth Entrepreneurs, West Africa (CAYE-WA), to promote youth entrepreneurship as a remedy for the increasing youth unemployment in the region.
The Commonwealth Alliance for Youth Entrepreneurs is spearheaded by the Youth Division of the Commonwealth Secretariat to give young entrepreneurs a bigger voice on issues affecting them.
Launching the CAYE-WA chapter, Mr Asiamah acknowledged the persistent problem of youth unemployment in Africa saying the World Bank's 2012 figures indicated that 773 million youth globally were seeking employment opportunities, with many of them being Africans.
He noted that youth unemployment was a security threat to Ghana thus the institution of various measures to address the problem, including the establishment of the National Service Scheme, the National Youth Employment Programme and the Youth Enterprises Support Fund.
Mr Asiamah said entrepreneurship was the most viable solution for youth unemployment, adding that CAYE-WA would help to alleviate the problem for most governments in West Africa by helping to develop skills, innovation, creativity, knowledge and confidence of young entrepreneurs and accelerate their social, political and economic integration through peer to peer learning and networking.
'The Commonwealth Alliance of Young Entrepreneurs should transform the ideas and entrepreneurial aspirations of ambitious youth into real action and concrete products,' he said, and pledged government's readiness to host and support the secretariat of CAYE-WA.
Ms Katherine Ellis, the Director of the Youth Division of the Commonwealth Secretariat, said the CAYE-WA would join other chapters around the world including Asia, Caribbean, Canada, East and South Africa to link up business.
She noted that the CAYE network had proved valuable to entrepreneurs since its inception in 2010.
'The model has been very effective and we see there is going to be real opportunity to grow and make it into an incredibly dynamic force of young entrepreneurs driving trade and also having a united voice on whats important to help young entrepreneurs get their businesses started and grow,' she said.
Ms Ellis said young entrepreneurs faced a myriad of challenges including difficulties in accessing financing, lack of training and support and that the CAYE provided a platform for them to share ideas and identify new markets among other things.
She commended the young entrepreneurs for their commitment to moving from job seekers to job creators and helping to address the unemployment problem.
Mr Emmanuel Asigri, the Chief Executive Officer of the National Youth Authority, urged the Commonwealth Secretariat to use its rich experience to impact the activities of the CAYE-WA chapter.
He urged entrepreneurs to take advantage of the demands of the Sustainable Development Goals to be more innovative and creative.
A seven-member board was introduced to steer the affairs of the CAYE-WA chapter, with Mr Bernard Oduro Takyi, a Ghanaian, as Vice Chair.
Other members are Mr Olalekan Oshunkoya-Chair (Nigeria), Ms Fatima Sesay-Vice Chair (Sierra Leone), Mr Mokate Ashu-Arrey Gabriel - Vice Chair (Cameroon), Mr David Boakye Danquah-member (Ghana), Ms Epiliki Stephanie Chrisna Mikeh-member (Cameroon) and Mr Andidiong Okon- member (Nigeria).
Mr Oduro Takyi said the work of CAYE-WA would be anchored on four main pillars: Policy and Advocacy, Trade Growth and Business Development, Mentorship; and Promoting Youth Entrepreneurship.
GNA