Sacked K'Poly students listed for National Service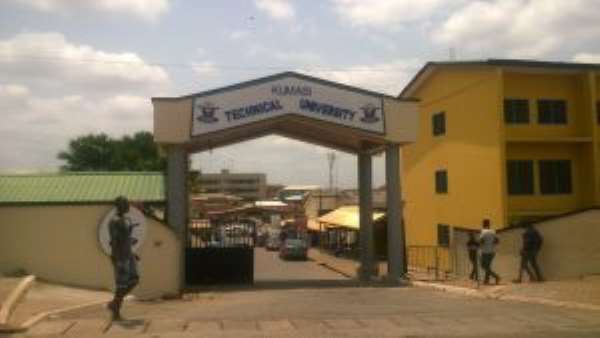 Some sacked students of the Kumasi Technical University (KsTU) are reportedly doing their National Service, following the school's database update failure, The Chronicle has gathered.
Information available to this paper has it that some first and second year students, who did not meet the required Grade Point Average (GPA) of 2.0 at the end of academic year, had their names on KsTU's legitimate list of National Service Secretariat (NSS) personnel.

This scandalous development, The Chronicle gathered, has encouraged flanked-out students to do their national service, which is against the NSS Act.
Information available to the paper indicates that a student (name withheld), who was sacked for admission document falsification in 2014, but readmitted and currently in level 200 and reading purchasing, is doing his national service. Investigations conducted by this paper revealed that this development has been phenomenal in the school, following the laxity of the KsTU authorities.
It was established that the database of students was not being updated, a development which has led to students wrecking the image of the Kumasi Technical University, formerly Kumasi Polytechnic.
An alumnus, who spoke on condition of anonymity to The Chronicle, revealed that sometime last year, a female accounting student, who was sacked for poor academic performance, found her name among KsTU students earmarked for national service for the 2016/17 year.
This paper is also reliably informed that over the years, some sacked students are loitering about on campus, with some writing examinations under the watch of authorities. In an interaction with Mr. Charles Obeng-Sarpong, University Relations Officer (URO), he said before students are sacked, their results are discussed at various meetings, including the University Council.
According to him, names of students who have been expelled from KsTU are expunged from the database. In the case of the 2016/17 KsTU national service batch, where a sacked student is currently rendering his service, Mr. Obeng-Sarpong confirmed that sacked students are on their NSS 2016/2017 list.
He defended the school that 'Academic Dishonesty' was written against the name of the student who falsified documents to gain admission, stressing that the database administrator failed to take notice of the academic dishonesty notice, and added the name to the list. The KsTU URO was emphatic that the university sent a letter to the Ashanti Regional NSS Secretariat to expunge their names from the list.
Asked about the number of fake students rendering national service in the name of KsTU, Obeng-Sarpong replied that they are few. Mrs. Owusu-Akyaw, Ashanti Regional NSS Director, told this reporter she was not aware of the development.
The NSS Director explained that her outfit only acts on the list of students presented by institutions, emphasising that she has no right to take out a name from the NSS list presented by an institution.
From Richard Owusu-Akyaw, Kumasi