Social Ghanaians urged not to waste water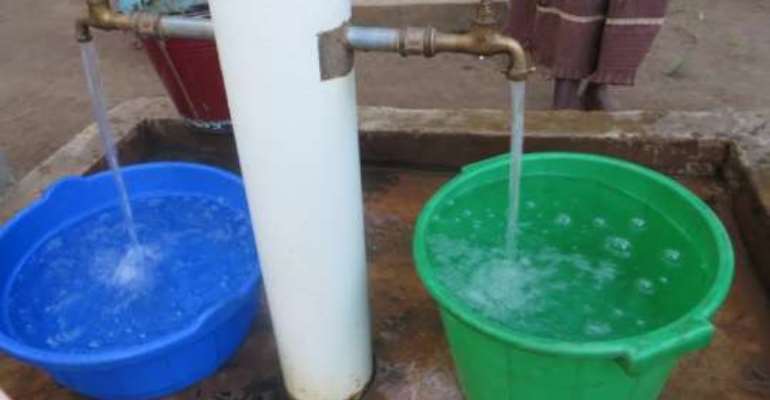 By Lydia Asamoah/ Julius K. Satsi, GNA
Accra, March 22, GNA - Ghana on Wednesday, joined the world to commemorate the 2017 World Water Day on the theme: 'Water and Waste Water,' with a call on Ghanaians to manage water resources and prevent the wastage of water.
Mr Joseph Kofi Adda, Minister of Sanitation and Water Resources, who made the call, said untreated wastewater was a threat to public health and the significant cause of pollution in water bodies and therefore the need to pay critical attention to them.
He has, therefore, indicated that science and technology would be needed to be employed to help manage and recycle waste water for other useful uses in the country.
'The growing demand for limited water supplies and their deteriorating quality, put increasing pressure to seek alternative approaches,' the Minister said in a speech read on his behalf in Accra on the occasion, which was also marked with the hoisting of Ghana and UN flags and a tour of a biogas treatment facility own by Action Chapel.
A United Nations report has indicated that more than 80 per cent of the wastewater generated by society flows back into the ecosystem without being treated and 1.8 billion people use a source of drinking water contaminated with fecal matters, putting them at risk of contracting diseases like cholera.
The UN has also projected that by 2050, close to 70 per cent of the world's population would live in cities, compared to 50 per cent currently, and that most cities currently do not have adequate infrastructure and resources to address wastewater management in an efficient way.
Mr Adda said in Ghana, water was increasingly under pressure because of the demand of the growing urban population.
However, Ghana was not exempted from the global agenda of ensuring the availability and sustainable management of water and sanitation for all by 2030, he noted.
The Minister said the theme was therefore a clear call on the nation to strive to ensure the production of quality water supply at all times.
He said the theme was also in line with the development agenda of the country in addressing the unfairness in the distribution of water to the population living in slums as well as impoverish rural and urban areas.
Mr Adda said: 'The National Water Policy recognises the need to promote partnership between the public and private sectors for the conservation and protection of water resources through the use of cleaner and efficient technologies.'
He said: 'It is increasingly being recognised that issues of wastewater and water quality have crossed linkages with a range of other water and non-water issues especially in respect of water, energy and food nexus.'
The Sector Minister said waste water management played a critical role in achieving future water security in a world where water stress was likely to increase.
Dr Osman Ansah Asare, Director of Water Research Institute of the Council for Scientific and Industrial Research (CSIR) said improving waste water management meant improvement on all the six target of the SDGs on water because it would ensure availability and sustainable management of water and sanitation for all.
He called on all institutions, especially churches, to build biogas treatment plant using fecal and waste water systems for others to follow suit.
Mr David Duncan, Chief, in-charge of Water, Sanitation and Hygiene programme at UNICEF, said safely managed wastewater was an affordable and sustainable source of water, energy, nutrients and other recoverable materials.
He urged stakeholders to work together to ensure that water sources were preserved while waste water was recycled and use for profitable ventures.
GNA