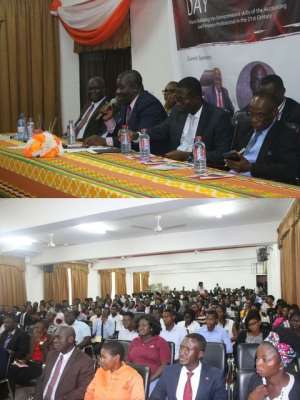 By Iddi Yire, GNA
Accra, March 22, GNA - Mrs Comfort Ocran, the Chief Executive Officer of Legacy and Legacy, has urged students to reposition themselves by acquiring skills that would enhance their employability.
She said in the quest to meet the evolving nature of the job market, there was a need for students to upgrade themselves for career excellence.
They should, therefore, identify their talents, develop a good personal brand, and also build excellent communication skills.
Mrs Ocran, who was speaking at a public forum, as part of activities marking the University of Professional Studies, Accra (UPSA), Faculty of Accounting and Finance (FAF), Week Celebration, said being multi-talented and also having multiple streams of income could help students become financially independent and successful.
The CEO explained: 'Identifying the talent is just one aspect, and polishing to make it relevant is also another aspect you must work with.'
The event on the theme: 'Building the Entrepreneurial Skills of the Accounting and Finance Professional in the 21st Century', is marking the maiden joint FAF Week Celebration.
Previously, students of the two Departments, which form the FAF - Accounting and Finance, used to observe their week celebration separately.
The celebration, is bringing professional bodies and practitioners on a common platform to share their experiences and also interact with the students.
Mrs Ocran noted that the challenges of the 21st century graduates included curriculum disconnection, devaluation of degrees, weak policy framework and jobless economy.
She said there was a disconnection between what students were studying now and the reality, with regard to what was happening at the job market.
'Sometimes students do not realise that the market place is evolving and so they believe that only the knowledge acquired in the classroom can make them succeed,' she said.
Mr Michael Agyekum Addo, the CEO of Mikaddo Holdings (formerly KAMA Group of Companies), urged students to develop their entrepreneurial skills to enable them to engage in self-employable ventures.
They should not wait for the Government for employment, as was often the expectation of many graduates, he said.
He said despite the numerous challenges, the creative and innovative people who were able to move beyond the conventional methods of doing things could survive, adding that, 'Regardless the challenges, you must strive for excellence'.
In an interview with Ghana News Agency, Dr Raymond Dziwornu, the Dean, FAF, UPSA, said entrepreneurial initiatives would significantly reduce the frightening statistics of youth unemployment in the country.
He said graduates usually targeted the non-available white color jobs, so there was a need for them to rethink and as well focus on creating jobs for themselves.
Dr Dziwornu explained that the forum forms was held to help students add value to the knowledge acquired in the classrooms to be able to set up their own businesses.
GNA