Elubo GIFF enrolls 32 students for Diploma course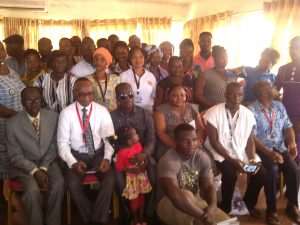 A total of 32 students have been enrolled at the Elubo branch of the Ghana Institute of Freight Forwarders (GIFF) Academy for Diploma courses in Freight Forwarding.
The thirty-two, who hitherto, would have to travel to Accra for classes, would learn in the comfort of Elubo.
This is due to the Elubo branch of the GIFF being accredited to run the Diploma courses for its members. After the course, the students would sit for the Federation of Freight Forwarders (FIATA) professional paper.
At a short matriculation ceremony held at the weekend, Mr. Jonathan Amanor, Education Manager for GIFF, took the students through the course papers they would be taking, in order to prepare them for the final exams.
He mentioned the courses as Maritime Transport, Dangerous Goods, Customs Procedures and Rail Transport amongst others. Describing the GIFF as a leader in improving careers in the freight society, he implored the students to take their books seriously, and reap the investment made in them by their employers.
He added that FIATA, an international recognised exam body, has approved GIFF courses, and as such, the students should not entertain any fears when it comes to the certificates they would acquire, as the GIFF, Elubo branch, was legally mandated and recognised to run the aforementioned courses.
He explained that the GIFF courses start from Certificate, Diploma to Higher Diploma levels. He said an arrangement has been made with the University of Cape Coast (UCC), where students, who hold both FIATA Diploma and Higher Diploma, could continue further studies to attain their degrees.
He consequently, urged the enrolled students to take the courses seriously, "so that you can build yourself, and move up the academic calendar."
Mr. William Amanhyia, Executive Secretary of GIFF, on his part, took the enrolled students through the history of the Academy. He said the GIFF Academy was the architect of transport, because of the proactive role it plays in the management of goods.
GIFF, he said, was not all about custom clearance, but a major service industry to international trade. So, it was essential the Freight Industry was able to rely on the skills and appropriate talents of its members.
To achieve this, according to him, it was important to improve the knowledge of its members who will participate in international trade.
He added that GIFF certificates was internationally recognised, and the courses are validated every three years.
Introduced in 1996, GIFF, he said, had issued certificates to a total of 12,394 members.
Present at the short matriculation ceremony were Mr. Jack Adu, a former Chairman of GIFF, Elubo branch, and Mr. Kwabena Ofosu-Appiah who took the students through their course contents.
By Alfred Adams