Nana Addo Protects The Public Purse -- Nicky Writes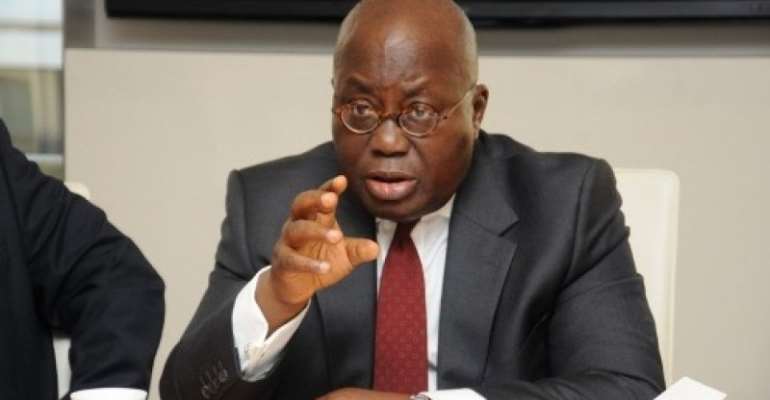 Having read and listened to arguments on Nana Addo's number of ministers and their deputies especially by the NDC and some think tanks gives me the impression that they think Nana Addo is just one of those unscrupulous politicians who would come into government with the sole aim of milking the country dry. This mindset held by a section of Ghanaians about Nana's government is just ridiculous to say the least. It simply means they do not know the man Nana Addo and his passion about the Ghana project.
This is the man who I learnt did not stay in government bungalow and refused to take rent allowances when he was made a minister for seven good years. This is the man we were told refused to take fuel from the state as a minister. This is the man, I'm told did not take per diem as a minister. It is also public knowledge that this man refused to take government land he was entitled to at the Airport area during the Accra land redistribution plan which was even lawful at that time. This is the man whose disgust and hate for corruption is not in doubt at all and cannot be tagged with corruption.
It is needless to say that most Ghanaians voted for change because of issues that are more important to them that they believe would bring relief to them and not trivialities such as government size brouhaha. As Niccolo Machiavelli rightly put it, "The end justifies the means" and the size of Nana Addo's government is just a means to an end and not the end in itself. The assumption that the fewer the ministers the more prudent a government is in safeguarding the public purse simply defies logical reasoning especially going by evidence so far in our fourth republic.
Hitherto Nana Addo's government, the Kuffuor-led administration had been the largest government with 93 ministers and deputies. He was accused that his government was too large but in terms of safeguarding the public purse, President Kuffuor's government is second to none compared to all the NDC governments in the fourth republic from January 1993 to January 2001 and from January 2009 to January 2017 in terms of prudent economic management and growth.
Now, to those doom mongers, this is how Nana Addo has started safeguarding Ghana's money already as Kwame Baffoe, a.k.a Abronye DC stated the facts on Oman FM's Boiling Point on Thursday, 16th March, 2017: An amount of Gh¢4.7 million was spent on Ex-President Mahama's inaugural ceremony on January 7, 2013. This happened even when the cedi to dollar ratio was Gh¢1.80 to $1.00. Going by that precedence therefore, before Nana Addo's inauguration, the former Chief of Staff, Mr Julius Debrah, presented a budget of Gh¢5 million to Hon Yaw Osafo Marfo perhaps because he thought that outrageous amount they spent on JM's inauguration was prudent. Hon. Yaw Osafo Marfo also showed it to Nana Addo who in turn warned that they shouldn't spend anything more than Gh¢3 million on his inauguration because that would amount to profligacy. Finally, the transition team ended up spending Gh¢2.7 million instead of the proposed Gh¢5 million even when the cedi to dollar ratio had more than doubled from Gh¢1.80 to Gh¢4.30 to $1.00 by then. Even before Nana Addo had been sworn in as president, he had saved Ghana an amount of Gh¢2.3 million already.
Now, juxtaposing this to the NDC and those think tanks such as IMANI Ghana led by Mr Frankline Kujo who want to crucify Nana Addo because of their assumption that the pay basket for the ministers would be bloated due to large number of ministers and deputies, does it look to them that Nana Addo is someone who wants to milk Ghana dry?
As Nana Addo himself indicated in an interview granted to GTV and Graphic Journalists on Friday, 17th March, 2017, 42 out of the 50 deputy ministers nominated are all Members of Parliament who are already taking salaries very close to those of deputy ministers. Because they cannot take double salary as MP and a minister, all that would be done would be add a little top up to their existing salary which would be a very insignificant amount of about one thousand Ghana cedis (Gh¢1,000.00) compared to if he had appointed them from outside parliament.
I implore Ghanaians to give Nana Addo the benefit of doubt for him to deliver on his promises to the good people of Ghana since that is why we reposed our confidence in him and gave him our massive endorsement in the 2016 general elections. We believe Nana Addo will deliver so let's give him some space. He needs more competent brains to help him fulfill his numerous promises geared towards making Ghana a model of Africa.
BY
NICHOLAS BOADI