Asawase by-election underway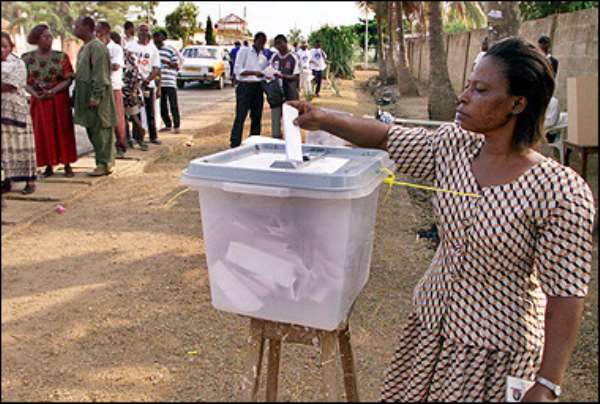 .... amidst tight security Kumasi, April 21, GNA - Voting in the Asawase Constituency By-election got off this morning amidst tight security. The heavy security presence was not unexpected given the tension and acrimony that characterised the political campaign of the parties contesting the seat. The general atmosphere at the polling centres visited by the Ghana News Agency, however, looked generally relaxed as voters calmly took turns to cast their ballot. Queues that had formed during the early hours of the voting had disappeared by 1000 hours. Some of the Presiding Officers the GNA spoke to said, they anticipated a high voter turn out. Out of 5,769 registered voters in 10 polling stations at Aboabo Number One, Aboabo Number Two and Asawase, 1,627 had cast their ballot after the first three hours of voting. In all, 80,315 voters would be voting at 107 polling centres in the Constituency. Ibrahim Mohammed Issaka of the People's National Convention (PNC), Alhaji Shuiabu Musah Shariff of the New Patriotic Party (NPP) and Alhaji Muntaka Mohammed Mubarak of National Democratic Congress are contesting the parliamentary by-election. The by-election became necessary following the death of the NDC Member of Parliament (MP) for the area, Dr Mohammed Gibiril Adamu on Saturday, February 26.
The Parliamentary results of Election 2004 were: Thomas Tangwanse of People's National Convention (PNC), 1,598 votes; Patricia Appiagyei of New Patriotic Party (NPP), 29,067 votes; Dr Adamu of National Democratic Congress (NDC), 33,541 votes; King Hassan Abu-Bong of Convention People's Party (CPP), 570 votes; Adam Diywo Rahman of Democratic People's Party (DPP), 204 votes and Abdul Majeed Alhassan an Independent Candidate, 2,505 votes.