Cotonou (AFP) - Many Africans have become accustomed to their leaders trying to cling to power at all costs, but in tiny Benin, the president appears to be trying to do the opposite.
President Patrice Talon, a former businessman dubbed the "cotton king" of Cotonou, has put forward a proposal to limit the head of state to a single term of office.
Reform of the "political model" was a central part of his election campaign last year, which saw him beat then-prime minister Lionel Zinsou in the race to replace Thomas Boni Yayi.
He also proposed setting up a court of auditors and revamping political party funding.
But a lack of clarity over the one-term presidency plan has stoked some controversy, and after months of waiting it is only now that parliament is getting to study the proposals.
For some, the plan indicates that Talon wants to be considered a modern head of state.
Opponents, however, have condemned what they say is a stifling of public debate on the issue and questioned Talon's motivations.
"It's too easy to argue a revision is necessary because the constitution is 27 years old," said Victor Topanou, who was justice minister under Boni Yayi, Talon's predecessor.
Revising the constitution is just to "satisfy your ego, to prove you've succeeded here where other regimes have failed," added Topanou, who is now a law lecturer.
Talon himself has said he recognises that "touching the constitution is the subject of a lot of anxiety and worry" but that "technical modifications" are needed to develop democracy.
Exactly what that might entail, though, is causing widespread concern, with details of the proposal not yet made public.
'Complacency and corruption'
Several political and civil society figures were appointed to a special commission to look into changes to the constitution, and they delivered a 60-page report last June.
Talon had promised a referendum on the changes, but he now appears to be backtracking on that promise by instead taking it to parliament, where he has strong support.
The west African nation, which is dwarfed by its giant neighbour to the east, Nigeria, is often cited as an example of regular, democratic transfers of power.
But the idea of a single presidential term has divided the political class.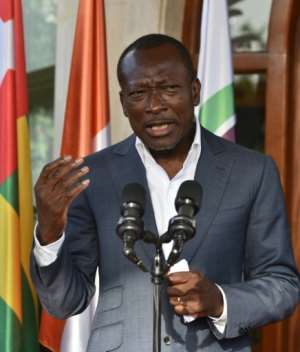 President Patrice Talon's proposals have divided the political class in Benin
For one lawmaker, who asked to remain anonymous, having a single mandate makes "taking risks for development" an absolute necessity.
"Once someone is elected, he starts the campaign for re-election and that becomes a fertile ground for complacency and corruption," he added, saying the single term would probably be capped at six years.
But opponents fear that holding office for a single term could have the opposite effect if a president does not have to court the favour of voters at the end of his term.
"The logic of a single mandate is that the president is answerable to no one," said opposition lawmaker Hugues Agonkan.