17 March 2017
|
Editorial
Let Unruly Soldiers Face The Music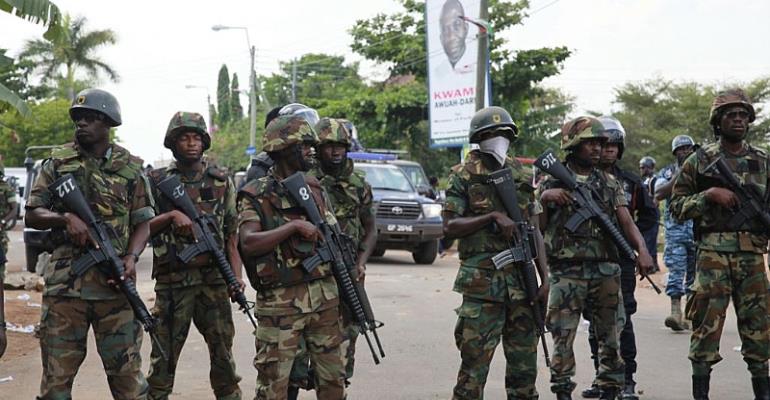 Unfortunately we have still not weaned ourselves from the indiscipline of some men in uniform. Another incident has been reported in Takoradi. It is instructive that the one before it happened in the same regional capital of Western Region.
We are compelled to ask: what is it about some military personnel in Takoradi that makes them think they can descend upon their civilian counterparts at will?
Have they forgotten so soon that they are in a disciplined organization that is different from a militia somewhere in Somalia where anything goes?
The story about some 20 uniformed personnel descending upon any civilian they spotted in a suburb of Takoradi a few days ago made worrying reading.
That a similar incident occurred when some Air Force personnel assaulted some police officers on duty in a suburb of the Western Regional capital a few months ago calls for drastic measures against soldiers who breach the laws governing their conduct.
Such brutalities define rather worryingly our level of mental development as a people.
Some uniformed persons simply do not understand the system in which they struggled to get into and would therefore not think before they act under provocation.
Although those who suffered the brutality were unable to identify which arm of the Ghana Armed Forces the military persons originated from, the defaulters were nonetheless soldiers bound by both civil and military laws, the former superseding the latter.
So many years after independence it is unfathomable that we still record such uncouth and uncivilized behavior from those, who by virtue of their training and the regimented life under which they live, should not be seen to be conducting themselves as such.
There is no over-flogging the issue of indiscipline among some soldiers, especially since discipline is the bedrock of any successful military.
The Ghana Armed Forces has earned an enviable renown over the years, from the Kasavubu crisis in the Congo to Mali and recently the Gambia, because of the discipline exhibited by our troops.
The UN continues to draw personnel from our population of military personnel for the maintenance of law and order in restive parts of the world and so any blemish of the kind which triggered this commentary should not be entertained under any circumstance whatsoever.
The military hierarchy should be worried that we still have within the colours such soldiers who leave their barracks simply to go and beat up civilians because one of their kind lost a mobile phone to a hoodlum in town.
If the training regimen fails to teach the recruit during their training programme at the recruit training centre that taking orders and being orderly is part of the discipline that is required of them, then something needs addressing.
Any soldier worth his salt must not do anything that breaches morality. We are beginning to feel that insufficient punitive actions have been meted out to those involved in earlier misdemenours.
Had these being sufficient, the deterrence that such actions should provide would have been achieved.
That the said defaulters failed to report the case to the police and took the laws into their hands by beating up anybody they chanced upon underlines how ignorant they are about good behavior and the overwhelming nature of civil law.
We want to see the military take action against these soldiers and same brought to the public domain.