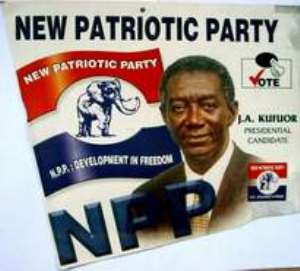 The opposition National Democratic Congress says Thursday's bye-election is a test case for the popularity of the Kufuor administration.
Leaders of the party say the poll is a referendum for Ghanaians represented by voters in Asawase to demonstrate their rejection of the policies of the ruling NPP.
Both parties have campaigned strenuously since the Electoral Commission officially declared the seat vacant earlier this month after the death of the NDC MP, Dr. Adamu Gibril.
The month-long campaigns were rounded off on Tuesday with rallies by both parties claiming victory.
Speaking at the NDC's final rally at Asokore Mampong, Minority Leader in Parliament Alban Bagbin urged supporters to ensure that the NDC retain the Asawase seat by a landslide.
He said it would be a practical way to send a clear signal to the NPP government that it was fast losing touch with the people because of its harsh economic policies that are enriching a few people and impoverishing the masses. Former President Rawlings, who took his turn to address the rally, accused the NPP of vote buying and asked supporters not to sell their conscience by accepting monies to vote for the NPP candidate.
"Monies are being shared all over the place in order to dilute our intelligence and efficiency, it is important that you remember that the strength of the NDC rises from our honesty and our integrity, whatever it is, ladies and gentleman, don't sell your conscience, hold on to your conscience and your integrity" he said.