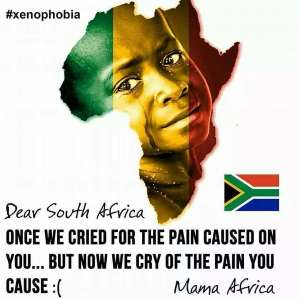 It's deja vu in South Africa. The murderous xenophobic mobs are out again in the streets with their machetes, iron bars, and sticks hunting down fellow African migrants, killing them and looting and burning down their businesses and homes. It is a chilling reprise of the blood-curdling events of 2006 and 2015, when many African migrants were brutally murdered. Naturally, the South African government is facing a storm of criticism from other African countries for failing to adequately protect their nationals living in South Africa.
In fairness to South Africa, however, it should be pointed out that other African countries have also been guilty of xenophobic excesses in the past, albeit less vicious and dramatic.
Throughout the years as the economies of various African countries deteriorated, it became fashionable for these countries to make migrants the scapegoats for their intractable unemployment woes. As a result, in the early 70s and 80s countries like Ghana, Nigeria, and Ivory Coast, ostensibly in order to create more economic opportunities for their own citizens, adopted measures that led to the mass expulsion of migrants, mostly fellow West Africans living and working within their respective borders. In The Gambia, the fate of Ghanaian migrants was even direr: 40 of them were murdered in cold blood in 2006.
Yes, a number of otherAfrican countries have also gone through xenophobic eruptions at one time or another in their histories, but South Africa is in a class by itself because of the recurring nature of the problem in that country as well as the raw brutality of the xenophobic maniacs who seem to get away with all the horrendous crimes they commit against the poor and innocent migrant communities. The persistence of the attacks creates the impression that the South African government is not doing enough to protect its African guests.
It takes two to tango, as the saying goes. Xenophobia invites retaliation, and the South African government could soon find itself reliving the bitter experience of its Apartheid predecessor - the boycott of its goods and services and diplomatic isolation - unless it makes an effort to get a handle on the situation. We should all hope that things do not unravel to that extent because African countries need each other in order to survive. Even relatively rich countries like South Africa still need to do business and co-operate with their less fortunate neighbours for the common good.