Railway Workers Hail Akufo Addo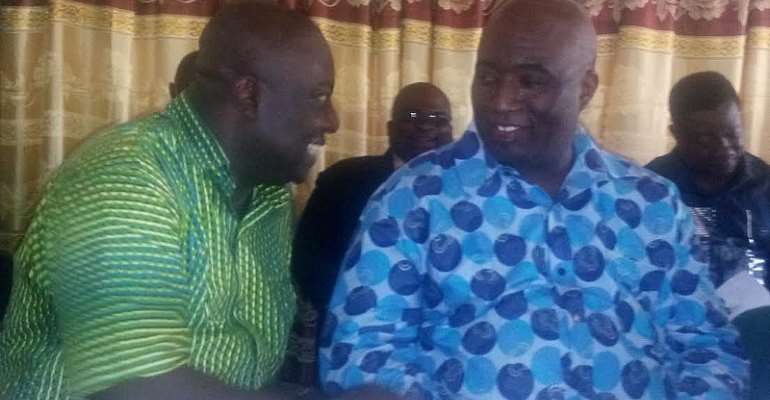 Joe Ghartey (Right) in a chart with Mr Ntarmah, Sec, Railway Workers Union
Workers of the Ghana Railway Company Limited (GRCL) have highly commended President Nana Addo Dankwa Akufo-Addo for the creation of the Ministry of Railway Development, saying the ministry is a good omen for them.
According to the workers, the promise by the current government to give attention to the rail network from Takoradi to Paga this year as stated in the 2017 budget statement, had rekindled their spirit.
"President Akufo Addo has already started on a good note by creating a new ministry for Railway Development and also gone further to appoint Hon Joe Ghartey, Member of Parliament (MP) for Essikado as the minister", they mentioned.
The railway workers continued "Though this is not the first time a ministry is being created for the Railway sector, it is worth mentioning that the appointment of someone who understands the industry and also an MP for an area dominated by railway workers and their families is very commendable".
The General Secretary of the Ghana Railway Workers Union, Godwill Ntarmah gave the commendation at the National Executive Council meeting of the Union held in Takoradi on Friday.
The workers used the occasion to take stock of their activities for the year 2016 and also to map out strategies for 2017.
Mr Ntarmah, however, pointed out that the creation of the Ministry of Railway Development alone would not result in automatic revamping of the Railway Industry and that adequate investment and proper planning was required to ensure that the sector was brought back to life.
"We have every conviction that the government will stand up to the test of time and ensure that the right thing is done. Our minister cannot afford to fail, but a lot depends us as workers of the Railways company", he emphasised.
He told the workers "we stand to gain if the ministry succeeds to bring the Railway back on track. We are under obligation to give off our best".
Minister
The Minister for Railway Development, Hon Joe Ghartey told the railway workers that the government aimed to build a strong and robust railways sector, ready and capable of receiving the massive investment that would come into the sector in the next few years.
"This month, a group of foreign investors who intend to build a factory in this city, to manufacture and supply some of the inputs in building railway infrastructure will be visiting us to commence negotiations", he stated.
For his part, the Omanhene of Essikado Traditional Area, Nana Kobina Nketsiah V recalled with pride the role of some railway stalwarts such as Pobee Biney who declared Positive Action in Sekondi and sped the country on its way towards independence on March 6, 1957
From Emmanuel Opoku, Takoradi