Lack Of Skills Pushes Women Into Street Hawking – Survey By Ram Foundation Reveals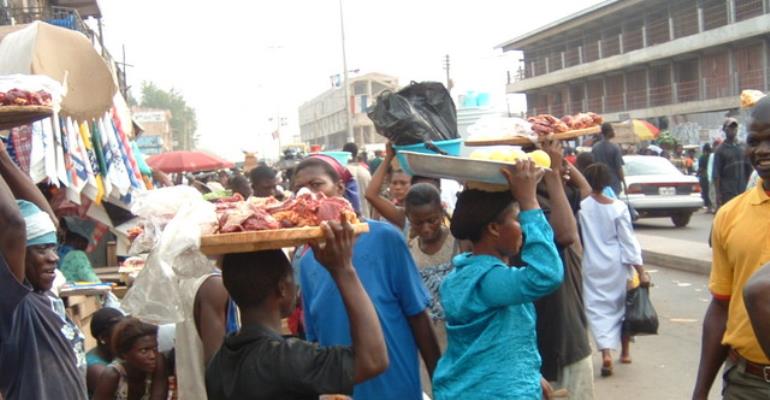 A survey conducted by the Rebecca Agroh Memorial Foundation (RAM Foundation) has found that lack of functional skills pushes women into street hawking.
The Foundation a registered not-for-profit women- focused organization in East Legon undertook the research to explore the livelihood options for female street hawkers in Accra.
It is a known fact that, there are thousands on the streets everyday who sell petty goods in traffic including chewing gum, sachet water, energy drinks etc. This phenomenon poses the risk of being knocked and killed by moving vehicles. Regardless of the threat, this situation has not received much attention. The study basically sought to find out how these hawkers survive the harrows of economic hardship by plying their trade.
This research was carried out with a sample size of 100 female street hawkers drawn from three prime areas of street hawking namely Gulf House traffic light on the Accra-Madina road, Dzorwulu junction traffic light on the N1 highway near Fiesta Royale Hotel and Kwame Nkrumah Interchange through the purposive non-randomized sampling technique and snowballing.
The study identified one Pull factor and a number of Push factors such as unemployment, money for daily sustenance or for school fees.
A very worrying observation that was made was that about 78% of the hawkers did not have any particular skills. Additionally, it was found out that, most of the hawkers want to quit but they do not have any skills with which they can start something on their own or money to even set up retail shops. They are thus left at the mercy of the hazards of the streets. In other words, they have NOWHERE TO GO.
While making our own efforts to address this situation, we are also calling on government, policy makers, financial institutions and other non – governmental organizations to intervene.