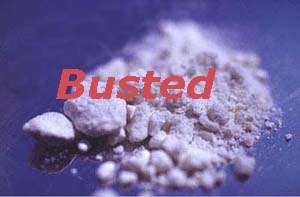 THREE Nigerian drug couriers have been arrested by officials of the Narcotics Control Board (NACOB) for attempting to smuggle various quantities of substances suspected to be cocaine outside the country.
Chika Jimmy Olu and Otaka Ikoro Kalu were arrested on April 10, this year, while Folashade Oshodi was arrested on April 16.
They are all in custody pending further investigations. A source at NACOB which disclosed this in an interview yesterday said Oshodi, who was travelling with her four-year-old daughter, was arrested at the boarding gate at the Kotoka International Airport (KIA).
According to the source, she had concealed 2.2 kilogrammes of the suspected substance in her handbag when she was arrested.
It said when her passport was checked, it was established that she had visited the country eight times within this year alone.
The source said during interrogation, she conceded to being a courier and that she usually came to Ghana to carry the drugs to Ireland, where she was based.
With regard to Olu and Kalu, the source said they were arrested while going through departure formalities at the KIA.
It said when they were arrested, they denied carrying drugs on them.
The source said the two later confessed to having swallowed some pellets of cocaine.
It said Olu, who initially claimed he had swallowed 60 pellets of the drug, later discharged 70, while Kalu expelled 52 pellets as he had indicated earlier.
The source said it took about two days for the Nigerians to expel the drugs.