9 March 2017
|
Regional News
Sefwi Ntrentrenso Community To Benefit From Clean Water Supply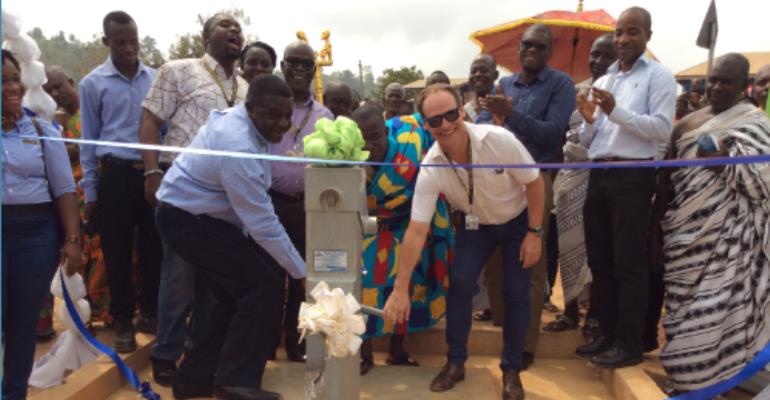 Sefwi Ntrentrenso – 9th March, 2017: Vivo Energy Ghana (the official Shell licensee and recipient of the Excellence in CSR award at the 2016 Ghana Oil and Gas Awards), in partnership with Chirano Gold Mines, has commissioned a mechanised borehole for the Sefwi Ntrentrenso community within its operational area in the Western Region.
The borehole will provide potable water for the day-to-day activities of community members within the catchment area.
Speaking at the event, the Managing Director of Vivo Energy Ghana, Mr. Ebenezer Faulkner said Vivo Energy Ghana has the vision of becoming Africa's most respected energy business. In order to make this a reality, the company has gone beyond simply running a business to serving its communities – not just through providing high quality Shell products and services, but also through the critical areas of road safety, education and the environment.
"By bringing this borehole to the Sefwi Ntrentrenso community, we are optimistic that the members of this community will enjoy a free-flowing supply of safe, refreshing water and we are honoured to have the privilege of helping to improve the lives of the people of Ntrentrenso" says Mr. Faulkner.
The Vice President and General Manager of Chirano Gold Mines, Mr. Kenneth Norris reiterated Vivo Energy's long standing support to Chirano's mining communities which included the distribution of solar lamps and energy efficient cook stoves to school children and women within its catchment area. He also expressed his appreciation to Vivo Energy Ghana for the collaboration with Chirano Gold Mines on the construction of the borehole.
The Municipal Coordinating Director of Sefwi Wiawso Municipal Assembly, Mr. Joshua Addae commended Vivo Energy Ghana and Chirano Gold Mines for their continued support to the communities and urged other contractors of the mines to emulate the example.
The Chief of Sefwi Ntrentrenso, Nana Agyei Duku Ababio II lauded Vivo Energy and Chirano Gold Mines for the gesture and encouraged all members of the community to make good use of the borehole and ensure it is well maintained to serve not only them, but also generations to come.