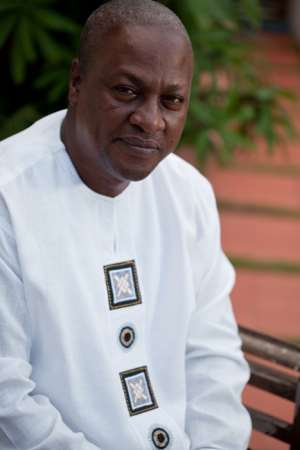 Ex-President Mahama
Tertiary institutions, both private and public, including to some extent, second cycle institutions, were treated worse than garbage under ex-President John Mahama's administration, and this was a President who hypocritically proclaimed that he placed priority on education.
For the first time in Ghana's history since independence, second cycle institutions in some parts of northern Ghana had to forcefully close down due to mounting debts in respect of payments of food supplies, and this is someone who hails from the north and climbed the ladder to the Presidency through nothing, but education. Even during the famine in 1983, second cycle institutions across the country did not close down.
Private universities had their income taxed without any thought whatsoever, that such a tax will have a knock-on effect on the fees they charge students who are admitted to pursue their programmes offered. It is the same Ghanaians who are unable to secure admissions into the public universities, due to inadequate infrastructure arising out of the Mahama administration's neglect, who turn to these private universities, and he turned around to tax the private universities. Could it be that the Mahama administration deliberately neglected to expand the infrastructure at the public universities to reduce their intake of students, thereby pushing most applicants to the private universities, to enable his administration rake in more tax revenue from the private universities? In the UK, all universities, whether private or public are classified as charitable organisations, and therefore, pay no tax on their income. This is what is meant by prioritising education.
Statutory payments to subvented public tertiary institutions, could in some instances during President Mahama's tenure, be in arrears for close to 6 months, and he claimed to prioritise education? He probably didn't know the literal meaning of 'priority'. Some public tertiary institutions took overdrafts, loans, and whatever credit facility available at their bankers to pre-finance basic running costs such as payment of salaries, vehicles insurance premiums, utility bills, etc, whilst waiting for government grants that took ages to arrive, thereby indebting these educational institutions further, arising out of accumulating interest and other charges by their respective credit providers.
To rub pepper into the wounds of these public tertiary institutions, at ceremonies that Ex-President was invited to grace the occasion, he would grab it gleefully, and attend himself or send a representative to deliver a speech that appeared as if he cared a hoot about their problems.
A public tertiary institution sourced a loan and put up a hospital, and without any shame, Ex-President went to commission it and delivered a speech without a second thought.
Most statutory payments that were carried out by previous administrations, became a propaganda tool by the Mahama administration. Payment of lecturers' research and book allowances, was turned into a medium to sing praises to himself. It was like, "yes, the whole world should see that I, John Dramani Mahama, President of the Republic of Ghana, has been able to pay my public universities/polytechnics lecturers research and book allowance"! What a disgrace! Rawlings, Kufuor and Atta Mills' administrations, all paid these allowances without any hue and cry. Under Ex-President Mahama, lecturers had to either embark on strike actions or threaten to strike, before allowances legally due them were paid, what a travesty of justice!
The failure of Ex-President Mahama's administration to reconstitute the various public universities governing councils on the expiry of their terms of office is the greatest disservice he has done to the good people of Ghana. On a literal interpretation of the consequences of such a grave error, all decisions, actions and inactions, taken by those councils, whose tenure expired and were asked to continue by Mahama's administration until new governing councils were put in place, are null and void and therefore of no legal effect. All appointments, including my appointment, promotions, recommendations, the certificates of all those whose graduation was superintended over by these expired governing councils, etc., have no legal basis,
How long will it take a sitting President to reconstitute a public university governing council? The government appoints only 4 members, one of whom should be appointed the chairman and the over 10 other members remaining, come from other sources. So this was too difficult a task for Ex-President Mahama? If yes, then he had no business being the President of this country. This is a job for a deputy minister of education, not even the minister, and yet, the Mahama administration failed to undertake this simple formality for close to 3 years.
The current gov't should not allow a similar situation to arise.
Alhassan Salifu Bawah
Lecturer and Social Commentator