2 March 2017
|
Special Report
My Personal Healing Encounter With Seychelles Avatar Healer Now In Ghana
William Nana Yaw Beeko, Online Editor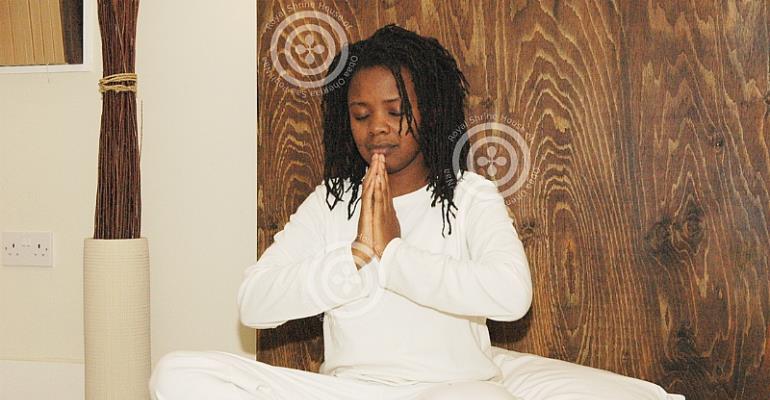 As a very busy personality always loaded with down sitting for long hours, I got knocked down by multiple health issues including stress leg freezings which gave me sleepless nights.
For over 3-months, I could hardly sleep, until through the line of my work, I met Obaahemaa SaaPogh'Naa II – Nyame Adom.
She is an Avatar Healer and a powerful Bagh'bora or Buddha Queen-Mother, who has come back home to Ghana to work for her Royal Ancestors who have appointed her since 2012 to become a, 'Guardian Mother Protector of the Soul of the Nation'.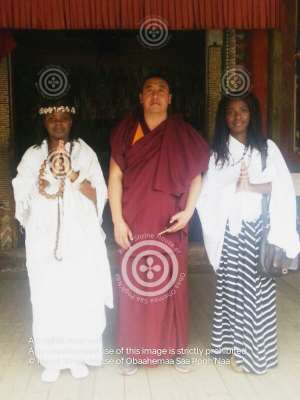 An Avatar Healer is a person who having already been born with the power of the Saints, has re-learnt to awaken their God-given innate power, to heal sicknesses using the natural elements of Earth, Water, Fire, Air and Spirit.
She receives her healing wisdom guidance and empowerments from her Dagarti - Mother Father Nation Protector Gods and the Royal Spirits of the Great Warrior Queens who protect her, Saint Saa Pogh'Naa I and the Great Warrior Queen, Saint Nana Yaa Asantewaa.
Together they represent a Universal Immaculate power of healing, purification and cleansing, and they have given to Saa Pogh'Naa II, the ability to destroy the malignant spirit of corruption that affects the 'Soul of a Nation' and that causes sickness in our individual lives.
In December 2016, Obaa Ohemaa was commanded by her Dagarti Gods to return home to Ghana after spending nearly 42 years travelling around the world unknowingly following the stolen relics of her predecessor, Saint Nana Yaa Asantewaa; learning, healing, praying and initiating – until such time as she had fully awakened her reincarnation status.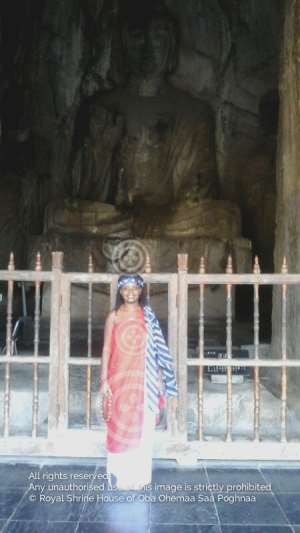 During her travels she also studied the Ancient Secrets of Wellbeing & Longevity from Buddhist, Taoist & Hindu Priests in the Holy Temples of Asia; and from the Curanderos and Shamans in the Equatorial Rainforests of South America and Gabon.
Using this knowledge and Wisdom, she has now set up the 'Accra Detox Centre' where people can go to receive an outstanding Portfolio of herbal detoxification treatments, for healing their Mind, Body, Spirit & Soul. The Accra Detox and Healing Centre also produces their own range of Herbal-Aid Detox Kits, that enable people to carry out simple self-detoxification methods at home,
Through some of her healing and cleansing remedies powered by organic substance diagnosis, I stand to testify of the great healing work I have been a beneficiary of, that has helped me to get a good nights sleep , and to rid my body of the pains and discomforts that I was feeling for weeks.
With Ghana importing loads of junk foods, its health implications cannot be downplayed especially as people continue to heavily depend on super markets instead of fresh foods and local organic materials.
It is therefore necessary to cleanse, and rejuvenate your body from time to time from the inside out. This helps to restore your feeling of inner wellbeing and strength. Queen Mother's work solely represents such kind of healing and super cleansing.
Obaa Ohemaa Saa Pogh'Naa II – Nyame Adom, heals all kinds of diseases, including digestive and stomach problems, liver, kidney, heart palpitations, inability to walk and anything. She recently healed a young girl of blindness, a staff member of TV3 Network who couldn't walk for strange reasons and more...
It is against this background that Obaa Ohemaa Saa Pogh'Naa II – Nyame Adom, has established the Accra Detox Centre, located at Kotobabi No.2 at the Spintex Road, in Accra, which is currently receiving consultations and all kinds of complications relating to health.
According to Queen Queen (as she is sometimes called), it is ALWAYS the perfect time of year to begin cleansing your body of unwanted toxins and getting rid of the excess waste and heaviness - that may be bogging you down. If you help your Body then your Body will help you.
Feeling fatigued, bloated, lacking energy, experiencing hormonal imbalances or skin disorders can all be attributed to an overburdened liver. There are many beneficial herbs that are incredibly detoxifying and help to support the liver and kidneys in flushing waste from the body.
Our liver, kidneys, and gastrointestinal system are designed to remove toxins, pollutions, pesticides and other harmful chemicals that can eventually overwhelm our bodies. A natural detox — nothing drastic! — will go a long way toward giving you more energy and making you feel better about yourself.
Make your detox diet your permanent diet, and your body will thank you.
Make a date with the Accra Detox Centre NOW!!!!!!!