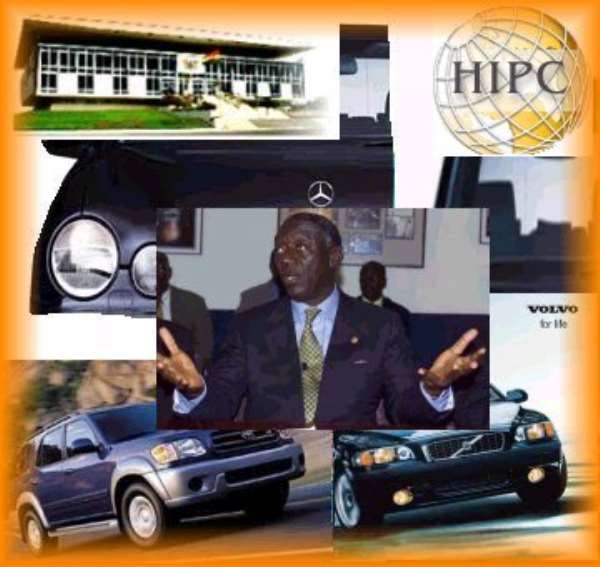 Akropong-Akuapem(E/R), April 15, GNA-Mr Yaw Barimah, Eastern Regional Minister, has said all Members of Parliament (MPs), who benefited from the government guaranteed 20,000 US dollars vehicle loan, under the first term of the NPP government, had fully paid their loans. He expressed displeasure that some Ghanaian expressed strong reservations over the granting of the loans and explained that the package was to assist the MPs to acquire means of transport to facilitate their work.
Mr Barimah was reacting to a questioner at the People's Assembly at Akropong-Akuapem on Wednesday.
He wondered why critics of the loans did not find anything wrong with the fact that the state purchased cars and provided drivers and fuel for some public officials and maintained those vehicles to enable the beneficiaries to effectively perform their duties.
At a similar forum at Somanya, in the Yilo Krobo District, Mr Barimah ordered the police to arrest members of "Ogome Boys", an armed gang, which had been terrorizing people at Somanya and its suburbs. He said development could only take place when the safety of individuals was guaranteed to enable them go about their normal duties without any fear of harassment.
A questioner had complained that the armed gang, had received complaints from a section of the public and illegally arrested people based on those complaints.
The questioner alleged that the group engaged in theft and molestation and raped the women they arrested.
The District Chief Executive (DCE) of the Yilo Krobo, Mr Christian Tetteh said the Assembly had decided to use its share of the Common Fund to expand the District Police barracks.
The Minister of State in-charge of Tertiary Education, Ms Elizabeth Ohene said efforts were being made to ensure that newly employed teachers had their salaries early while pensioners of Ghana Education Service received their pensions on time.
The Deputy Minister of Defence, Mr E. O. Boafo, who is also MP for Akropong, said he had been informed that efforts were being made to improve the Pantang Electricity Company of Ghana (ECG) sub-station to ensure regular power supply to Mampong-Akuapem area.
Mr Boafo said under the Self-Help Electrification Project (SHEP) 4, which would be implemented before the end of the year, communities along the Mamfi-Koforidua road would be connected to the national electricity grid.
The DCE of Akuapen North District, Mrs Eugenia Danquah-Quist, said government had planed to tar the Adawso-Mangoase-Tinkong and the 20 Kilometre Tinkong-Amafro roads.
Mr Kweku Agyepong, Assemblyman for Mangoase Electoral Area appealed to the government to construct teacher's bungalows, a block of classrooms and dormitories for the Mangoase Senior Secondary School to enhance teaching and learning.
Nana Asi Mante Asamoah II, Akyempemhene of Apiredi, appealed to the Department of Feeder Roads to complete the Apiredi-Trom road on time to facilitate economic activities.