26 February 2017
|
Feature Article
Donald Trump's war with the media: why I won't share tears for BBC, CNN, New York Times and co.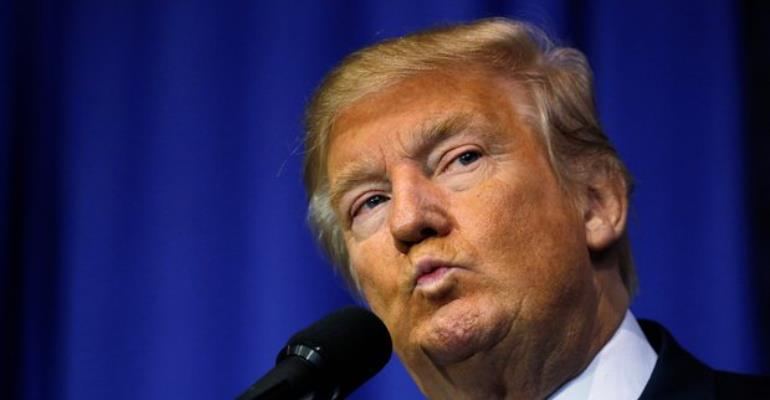 The mainstream media in Europe and America are grieving profusely. Their war with Donald Trump has escalated in the past two weeks. On Thursday 16 February 2017, during a press conference that lasted almost for two hours, Trump derided the media as 'dishonest' and 'fake news' who are 'enemies of the American people'. On February 17 Trump twitted "The FAKE NEWS media (failing @nytimes, @NBCNews, @ABC, @CBS, @CNN) is not my enemy, it is the enemy of the American People!" Trump continued his attacks this week at the Conservative Political Action Conference (CPAC) repeating his position that the media are enemies of the people. On Friday 24 February 2017, Sean Spicer, White House Press Secretary banned the BBC, CNN, the New York Times, Politico, the Los Angeles Times and BuzzFeed, the Daily Mail, the Guardian and others from a non-televised White House briefing.
Yesterday (Saturday 25 Feb.), Trump excused himself from attending the annual White House correspondents' dinner: "I will not be attending the White House Correspondents' Association Dinner this year. Please wish everyone well and have a great evening!" he wrote on twitter. In another twitter post on Saturday, Trump twitted "FAKE NEWS media knowingly doesn't tell the truth. A great danger to our country. The failing @nytimes has become a joke. Likewise @CNN. Sad!" On Sunday (26 Feb) Trump mocked the New York Times for taking adverts in order to increase its profits. "For first time the failing @nytimes will take an ad (a bad one) to help save its failing reputation. Try reporting accurately & fairly!"
I should be grieving with the media or must feel sympathetic towards them. But I won't grieve nor sympathise with them. They are reaping the fruits of what they have sown for decades. For decades they have been involved in misrepresenting anything that is not Caucasian. For example, the popular message in the U.S. media about African Americans is that of crime and violence. In the 2016 U.S. presidential elections, Donald Trump borrowed heavily from this negative media narrative by associating all the bad things in U.S. inner cities with African Americans. Trump's sweeping categorisation of Mexicans as rapists, criminals and drug chieftains is based on what the media have been saying about Mexico in the last 20 years.
For several decades, the media have relentlessly caricatured Africa as a place of savagery, violence, famine, corruption and war. According to the narrative in the Western media, the 54 countries in Africa are the same in terms of economic development, political stability, security, culture, institutional development and leadership quality. They paint Africa with a big brush refusing to differentiate between the continent's five main regions or individual countries. This wicked characterisation of Africa has dented the continent's image in the eyes of the global public.
I remember vividly what a student colleague of mine (who currently lives in New York) told me when I invited her to visit Africa one day. She said 'I will never visit Africa because it is a place of chaos, instability and poverty'. When I asked her where she learnt that from her answer was the media. Even when I explained to her that Africa is a continent of more than 50 countries with wide differences in culture, development and quality of life she was still adamant. I could not blame her because she was actually telling me what the media have told her about Africa in her entire life.
In the 2016 presidential and parliamentary elections in Ghana, CNN carried out untruth report that suggested that Ghanaians were starving to death and were qeueing for food and other products when in fact the opposite was true. "The national economy will be Akufo-Addo's major challenge. Oil reserves were discovered off the coast of Ghana in 2007, but Ghanaians struggle to obtain food and day-to-day services. Rolling blackouts are common and citizens often stand in long line to obtain products" the CNN broadcasted and was picked up by other media houses across the world. CNN was forced to apologise after Ghanaians protested against the fake news which was later amended. Rather than see Ghana's elections as a success, CNN was rather interested in misrepresenting the country to fuel the same story line they have been telling about Ghana for decades.
In May 2000, the cover page of The Economist magazine described Africa as a 'hopeless continent' and the western publics bought into it. Western media are at the heart of the distorted image of Africa. Together with their think tanks, political and the intellectual (academia) allies, they have produced volumes of stories, papers, books, documentaries and movies that deny Africa's contribution to world's civilisation and portray Africa as a place of ignorance and superstition.
The Western media have refused to tell the world how Western governments and corporations cunningly make billions of dollars of profit from the wars in the continent by selling arms, supporting dictators and backing rebel groups. In 2011, Gaddafi for example was portrayed in the media as a ruthless dictator who was prepared to use violence to kill his own people. The British, American and the French media supported the French-led NATO campaign and portrayed it as mission to democratise Libya and free its people from an impending catastrophe. They did not tell the world that the campaign was not about democracy but rather a ploy by Western governments notably France and Britain to steal Libya's 42 billion barrels of oil, its gold stockpiles, and to undermine Gaddafi's attempt to unite Africa. The leaked Hilary Clinton's e-mails tells us that the main reasons why Nicholas Sarkozy of France championed Libya's destruction are: "a desire to gain a greater share of Libya oil production, increase French influence in North Africa, improve his intemal political situation in France, provide the French military with an opportunity to reassert its position in the world, [and] address the concern of his advisors over Qaddafi's long term plans to supplant France as the dominant power in Francophone Africa)."
The BBC, SKY, CNN, Washington Post, New York Times, Fox, and their cohorts failed to educate their populations how their governments, corporations, politicians, businessmen corrupt African leaders by offering them bribes in order to loot Africa's resources. They refuse to let the world know how western banks, finance and legal firms lobby African leaders to steal from their people. The media are always quiet about how London, Paris, Washington, Zurich, New York and Brussels act as safe havens for the 150 billion dollars stolen from Africa each year. By staying silent and failing to expose the banks, lawyers, politicians and companies, the media have become not only a willing accomplice but actually aid and abet the system that continues to fuel corruption that impact negatively on Africa. In 2016, former UK Prime Minister David Cameron told Queen Elizabeth II that Nigeria is a 'fantastically' corrupt country. He did not tell the Queen that London is the recipient-headquarters of the loot that he was so happy to tell the Queen. Cameron was never asked by the media how he was repatriating the Nigeria billions stashed in HSBC and Barclays Bank back to the country.
The Western media are at the forefront of the 'us versus them' doctrine that continues to dominate international politics, economics, trade, finance discourse in Europe and North America. Nothing positive is reported about Africa, Latin America, Russia, China and other regions and countries. The demonisation of Nigeria, China, Russia, Iran, Mexico and Venezuela in the Western press is so pervasive that very few people have any positive image about these countries. These countries are therefore forced to establish their own media outlets to counter the half truths, misinformation and misrepresentation of their countries, hence Russia's RT, Iran's Press TV and China's CCTV. Unfortunately, Nigeria and her African sisters do not have such well-funded media powerhouses to counter the negative message the western media portray about the continent and this explains why so much of the incorrect message about the continent continues to stick.
Should I therefore worry if Trump is calling them by their true names?