17 February 2017
|
Feature Article
Would Ade-Coker and John Kumah Second-Guess The Police Brass?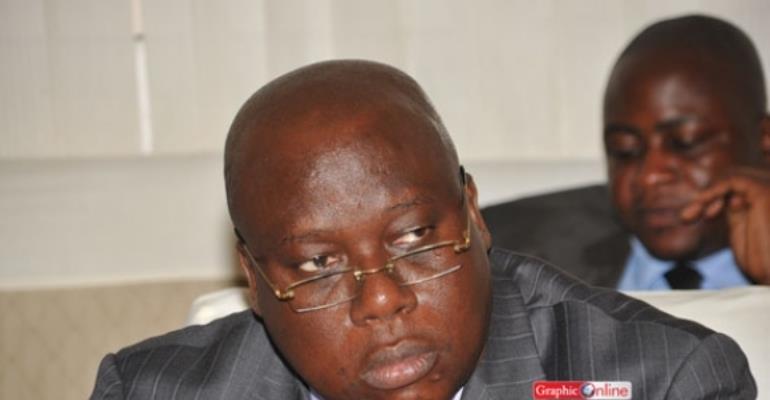 It appears that having had his most carcinogenic party healthily swept from power, Mr. Joseph Ade-Coker, the Greater-Accra Regional Chairman of the main opposition National Democratic Congress (NDC), is determined to make himself and the party that he leads that patented the art of corruption and perfected the same relevant at all costs.
Unfortunately for the half-Nigerian and Ghanaian-born NDC operative, President Akufo-Addo has too much of NDC's administrative filth to clear and clean up to worry himself silly about the rancid scandal that recently rocked the Human Resources Division of the Ghana Police Service (GPS), that got the Director-General in charge of that same division of the GPS dishonorably discharged (See "Timbilla Could Be a Scapegoat – Ade-Coker Suggests" 3News.com / Ghanaweb.com 1/29/17).
I don't know that he really understands what he is talking about, when Mr. Ade-Coker calls the dismissed Director-General of Human Resources at the GPS a "scapegoat," and so he needs to be told what a "scapegoat" is. The scandal for which Mr. Patrick Timbilla was dishonorably discharged, or fired, after two years of intense investigations, involved the payments of hundreds of thousands of cedis by Ghanaian citizens and residents who had been made to believe that they had been accepted for recruitment and training as law-enforcement agents, only to discover to their horror and utter disappointment that, in fact, they had simply been taken on a wild-goose chase, and that the jobs that they thought they were being offered were actually just a mirage.
Mr. Ade-Coker and Mr. John Kumah, the New Patriotic Party (NPP) operative, may be quite right that such a humongous and widespread scandal, perforce, ought to have involved more than just one person. However, at the end of the day, it was Mr. Timbilla, who was the top-most-ranking officer and Head of the Human Resources Division of the Ghana Police Service, whose managerial style and administrative tone set the trend and tenor of the culture and protocol of that sector of the GPS.
What I find most irritating about the comments of Messrs. Ade-Coker and Kumah is the fact that they appear to think and believe that having known and befriended Mr. Timbilla is evidence enough that the dishonorably discharged former Commissioner of Police (COP) was innocent of the charges for which he was rudely bumped off the top-brass membership of the GPS. Actually, these two men are not saying that Mr. Timbilla was totally innocent of the charges brought against him, only that there were far more than just one big cheese involved in the scandal. But the fact of the matter is that Messrs. Ade-Coker and Kumah were not the professional colleagues of Mr. Timbillah for them to be able to credibly say or suggest authoritatively that their cop friend did little or absolutely nothing wrong, and that, in effect, he had been railroaded by somebody or a group of people who did not like the man or simply hated his guts.
Whatever the real case scenario may be, there is a general consensus that something of scandalous proportions occurred at the Human Resources Division of the Ghana Police Service, which involved the fraudulent scamming of hundreds of Ghanaian citizens of hundreds of thousands of hard-earned cash. It was also inevitable that somebody in charge of the Human Resources Division of the GPS had to be held responsible for such felonious acts of criminality. Well, Mr. Timbilla was the man at whose desk the buck had to stop. Case closed.
Indeed, the suggestion that because Mr. Timbilla was officially dishonorably discharged only days before Mr. John Kudalor, the Mahama-appointed Inspector-General of Police (IGP), left office, therefore, somehow, there is something fishy about the entire Timbilla Affair – call it Timbillagate – reeks of nothing short of the inexcusably preposterous. Are Messrs. Ade-Coker and Kumah suggesting that it well may be IGP Kudalor who set the whole chain of scandal at the HR of the GPS in motion? Well, if these two men have any evidence pointing to this effect, let them promptly disclose the same and stop pretending as if they know any more than the rest of us.
I have also spoken to one former senior police officer who spent some four decades on the Force, as the GPS used to be known, who tells yours truly that Mr. Kudalor had actually been shabbily treated by President John Dramani Mahama, who preferred to inordinately pack the topmost echelons of the GPS with northern-descended Ghanaian officers. Could this unhealthy practice of naked and shameless nepotism have massively contributed to the sort of scandal that saw Mr. Timbilla dishonorably discharged from the GPS?
*Visit my blog at: kwameokoampaahoofe.wordpress.com Ghanaffairs
By Kwame Okoampa-Ahoofe, Jr., Ph.D.
English Department, SUNY-Nassau
Garden City, New York
January 29, 2017
E-mail: [email protected]
Contracts awarded to the sister-in-law has raised questions of conflict of interest.
Advertized