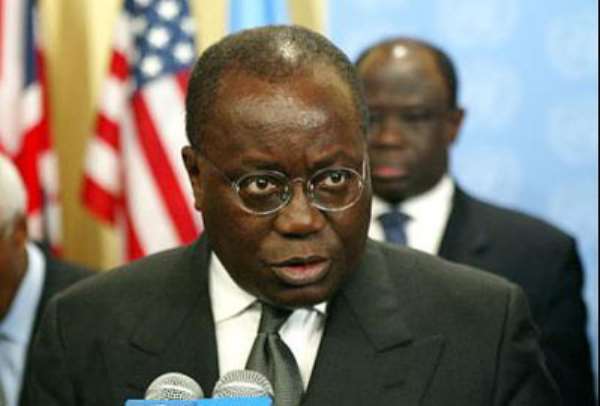 Ho, April 11, GNA - Nana Addo Dankwa Akufo-Addo, the Minister for Foreign Affairs, has said negotiations would continue to remain the key instrument in Ghana's relations with other countries.
He said diplomacy, rather than anything else, would be the method for achieving results in areas such as the enhancement of relations with neighbouring countries and the resolution of conflicts within the West African region.
Nana Akufo-Addo said this at a two-day Workshop On Techniques of Negotiations for Diplomats in Ho on Saturday.
The Minister said Ghana would continue to dialogue on issues relating to international instruments, including those to stem the financing of terrorism, abate trans-national organised crimes and bilateral investment protection agreements to encourage investments in the national economy.
Sixty participants attended the workshop, which the Legon Centre for International Affairs (LECIA) organised and they were from the Ministry of Foreign Affairs, Customs Excise and Preventive Service (CEPS) and other security services.
The United Nations Development Programme (UNDP) and the government of Ghana, under its National Governance Programme (NGP) sponsored it. Nana Akufo-Addo said the inter-connected threats and opportunities that were a fact of life in the time, meant that Ghana as a country could not isolate itself from situations and events that in the immediate past might have been considered remote.
He said the current global cry for peace required that the nation engaged continuously with a number of international processes, some multilateral and others bilateral in order to maintain its basic positions and advance its interests.
Nana Akufo-Addo called on the Foreign Service Officers to help redress the country's internal weak links and enhance its strengths through available international opportunities.
"You are uniquely placed to put the puzzle together and come up with workable solutions", he said.
Mr Christophe Bahuet, Acting UNDP Resident Representative in Ghana, in an address read on his behalf, said the Ministry of Foreign Affairs had over the years displayed admirable negotiation skills that had led to the development of significant relations with wide range of countries from its West African neighbours to the US and the UK among others.