Woman Chews Another Woman's Nipples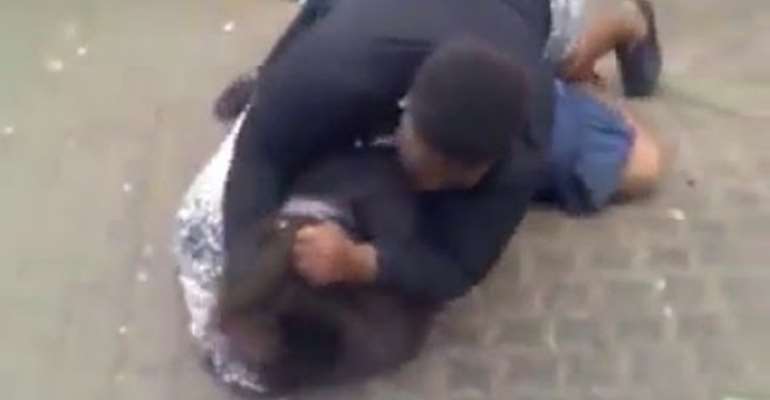 A 48-year-old woman at Assin  Sibinso in the South District of the Central Region, Vida Brew aka, Adjoa Belt, has been arrested  by the Assin Juaben  Police  Command  for biting the nipple of  a 37-year-old woman Ama Fosua during a fight.
Briefing DAILY GUIDE, the District Police Commander, ASP Okyere Andam, said the incident happened in the area on February 1, 2017 when the two fought over the connection of electricity.
ASP Andam noted that last year, Vida who had an electricity meter in the area was contacted by Fosua to allow her use some of the electrical power but Vida collected some money from the complainant before she allowed her to use it.
The Police Commander stated that Vida, who also collected the electricity bills, defaulted in payment, which compelled the Electricity Company of Ghana (ECG) to disconnect the meter.
ASP Andam said some weeks later, Fosua also went for her own meter and Vida approached her to allow her to use some of the power since she had a funeral in her house, adding that Fosua also demanded money from Vida.
He disclosed that Vida, who was not happy with Fosua's request, waited for her to go to town and made the connection without her knowledge.
He added that Fosua was informed about the action of Vida in her absence, compelling her to go to the funeral grounds to exchange words with her and later went home.
ASP Andam told DAILY GUIDE that Vida moved to the house and rained insults on Fosua.
Vida subsequently bit the nipple of Fosua during a fight.
A police medical form was issued to Fosua to go to the hospital.
Vida, who was arrested, has since been granted
bail by the police.
From Sarah Afful, Cape Coast
Email:[email protected]