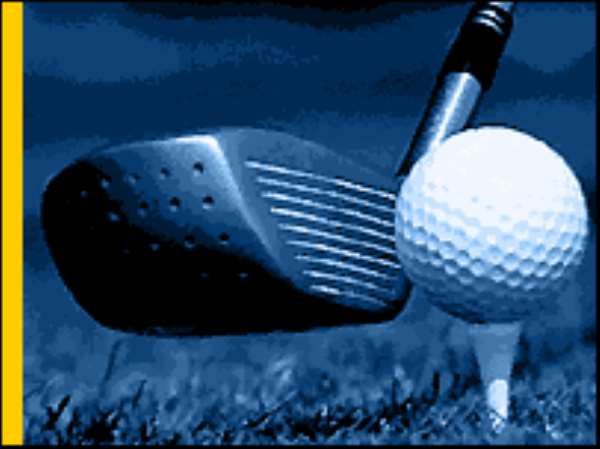 Accra, April 10, GNA - There were little surprises at the Tema Country Golf Course on Saturday, where Jasson William of the Achimota Golf Club and Susie Kumash from Tema were crowned champions in the male and female categories respectively at this year's Bok Nam Kim Memorial competition, which was spiced with a heavy dose of entertainment.
Most of the big names including Mona Captan of the Achimota club tipped to mesmerise their less-fancied challengers fell by the way as the competition progressed, giving way to budding talents like Niccolo Catto to shoot into the limelight.
Jasson won the Men's Handicap (which was the main event) on countback after tying with Dr Machi Mapuranga, Zimbabwean High Commissioner to Ghana on 65 net.
Peter Kwesi Amenyo snatched the third spot from David Arkutu also on countback after both had recorded a net score of 66.
Thirteen year-old Italian, Niccolo Catto, and a pupil of the Ghana International School (GIS) who was the runner up in the "Swing for a Child" competition staged a couple of weeks ago, proved that his achievement was not a fluke as he won the Men's Special contest with a net score of 65 beating favourite Martin Osei (66 net) to second position.
In the hotly contested Men's Scratch event, Philip Paitey beat Phil McCaulley on countback after both had scored 70 net to be crowned champion while Robert Allotey who was a point less of the two was third. The "Wonder Brothers", David Doe and John Mawuli were joint winners in the two-day Professional event with a gross score of 136 (no countback).
Victor Brave-Mensah and Emus Korblah were second and third respectively with 138 and 143.
Kumash clocked 66 net to win the ladies Hhandicap events followed by Florence Etwi-Barimah (68 countback), Georgina Puiac (68) and Owusu Adjapong, 68.
Grace Afriyie won the "two-woman" Scratch Contest with a gross score of 83 beating her sole challenger Essel Koosom who could only manage a gross score of 85.
Sedo and Toubert were winners and runner up in the ladies special event.
The one-day 18-hole full handicap event featured both amateurs and professionals golfers across the country.
The yearly competition is played in honour of the late Bok Nam Kim whose singular effort helped to transform the sport. He was President of the Tema Country Golf Club for eight years and the Managing Director of Afko Group of Companies before his demise in 1995.