MTN, Fidelity Bank Launch Y'ello Save Account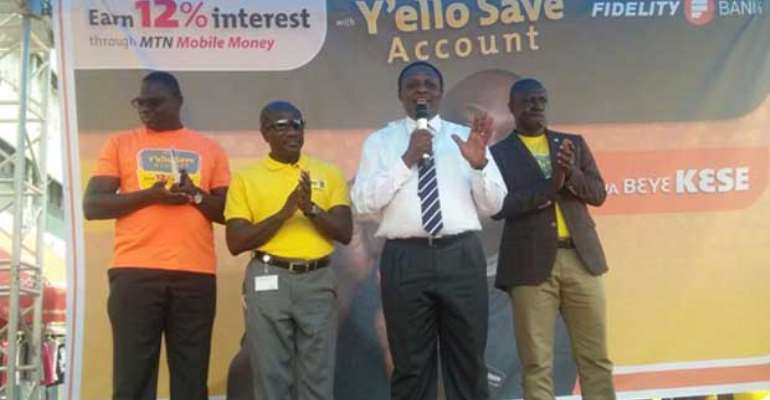 Jim Baiden (second right) followed by Ebenezer Asante alongside staff of MTN and Fidelity Bank declaring the Y'ello Save Account launched
Fidelity Bank Ghana Limited has partnered telecom giant, MTN Ghana Limited in unveiling a unique saving scheme dubbed, 'Y'ello Save Account.'
The Chief Executive Officer (CEO) of MTN Ghana Limited, Ebenezer Asante, said the 'Y'ello Save Account is a Mobile Money wallet-based savings product designed to help subscribers save and earn interest in a convenient way.
To subscribe to the Y'ello Save Account, mobile phone users are required to deposit monies on their MTN Mobile Money wallets and 'dial *170# and choose option 6 to be able to go through the process of creating Y'ello Save Account which will further require them to select a four digit number as their account code.
Depositors are to earn 12 percent interest per annum on their savings on the Y'ello Save Account, BUSINESS GUIDE gathered.
Mr. Asante, speaking at the launch of the Y'ello Save Account on Thursday at the Kaneshie Market in Accra, explained that "we believe it is a good way to mobilize funds and help people acquire the habit of saving. Mobile Money is now playing a crucial role in making banking services accessible to previously unbanked populations in developing countries."
According to him, "We believe that with over eight million MTN Momo subscribers and 58,000 agents, the Y'ello Save platform will become an important avenue for subscribers to harness the benefits of savings."
"I want to encourage all Ghanaians to be part of this Y'ello Save service; traders, drivers, iced water sellers, shop owners, artisans and all people operating within the informal sector would especially benefit from signing up to Y'ello Save," he said.
He disclosed that MTN paid a total of GH¢34,343,000 as quarterly interest to its Mobile Money customers in 2016, noting that "this confirms that MTN is committed to ensuring that its customers reap the benefits of using the Mobile Money service."
There are reportedly 8 million active mobile money users in Ghana, with over GH¢1.3 billion in float balances.
The Mobile Money subsector has been a source of worry for operators within the banking industry within the Ghanaian economy.
On his part, the Managing Director (MD) of Fidelity Bank Ghana Limited, Jim Baiden explained that "Fidelity Bank remains optimistic that its partnership with MTN will empower Ghanaians to save to change their fortunes and attain financial security for themselves and their families through the Y'ello Save Account."
He added "that is why we are proud to partner with MTN, the leading mobile money service provider, to create a product that will provide the growing number of mobile money users, a savings product that they can open instantly and build their savings with."
According to her, the initiative is to reduce the usual hassle associated with banking in the country, saying "no need to walk long distances or wait in queues."
He indicated that "all you need is a mobile phone and the MTN mobile money app on your phone."
Fidelity Bank, over the years has introduced some very innovative products onto the Ghanaian market, he said.
By Melvin Tarlue