Minority Does Not Recognize Otiko Djaba As Minister - Nii Lantey Vanderpuye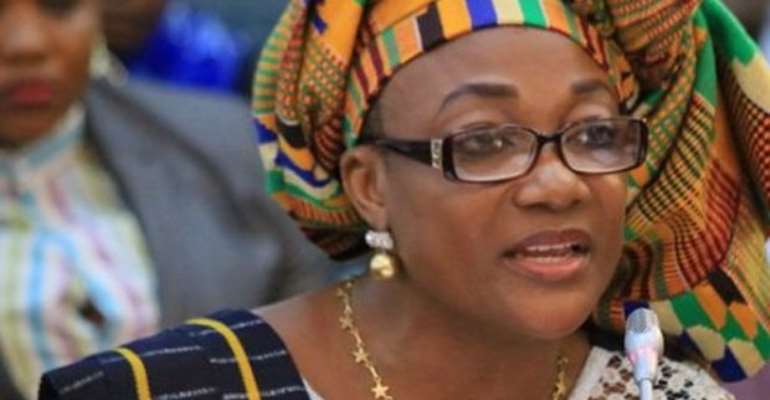 The Minister for Gender, Children and Social Protection Otiko Afisa Djaba may have enjoyed the numbers from the majority New Patriotic Party (NPP) in Parliament to get the nod as minister; however the minority National Democratic Congress (NDC) said they will not recognize the newly appointed Gender Minister. According to a Member of Parliament for Odododiodio who doubles as a member of the Vetting Committee, the candour and general composure of Otiko Djaba do not qualify her to be a minister hence the decision by the Minority to abstain from approving her.
Minority NDC on Tuesday said it will not be part of what they described as illegality. Minority led by its leader Haruna Iddrisu said the approval of the appointee who failed to enroll in the National Service Scheme (NSS) would amount to an illegality, arguing that Article 94 (2) of the 1992 Constitution is clear on the eligibility of anyone aspiring to be a minister. Another concern of the minority was refusal of the now Gender Minister to withdraw a statement she made against Ex-President John Dramani Mahama.
Asked if she still stood by her description of Ex-President Mahama as "wicked, evil and someone with a heart of the devil," Afisa Djaba said she spoke out of conviction and would not apologize or withdraw her comments. Shewas also reported to have told a rally in Tamale that President Mahama had outlived his usefulness and does not deserve a second term in office.
While responding to a question posed by Bright Kwesi Asempa, the host of Onua Fm morning show 'Yen Nsem Pa' as to why minority abstained from approval of the Gender Minister, Edwin Nii Lantey Vanderpuye said "We don't believe she has the candour to hold herself as a minister, her demeanor does not qualify him to be a minister, how do we entrust the life of the children and the aged in her care"
He maintained that since the majority used its numbers to pass the Gender Minister, the minority will not have anything to do with her. "The majority is already disappointing Ghanaians with the way they try to bulldozer their way. She was not the only one who appeared before us and has an issue. Others have apologized so why can't she" Odododiodio MP lamented.
"She will not receive minority support, as far as we are concern she is not a minister, she should do her work it does not concern us"