Akufo-Addo Seeks Chief's Support Over Galamsey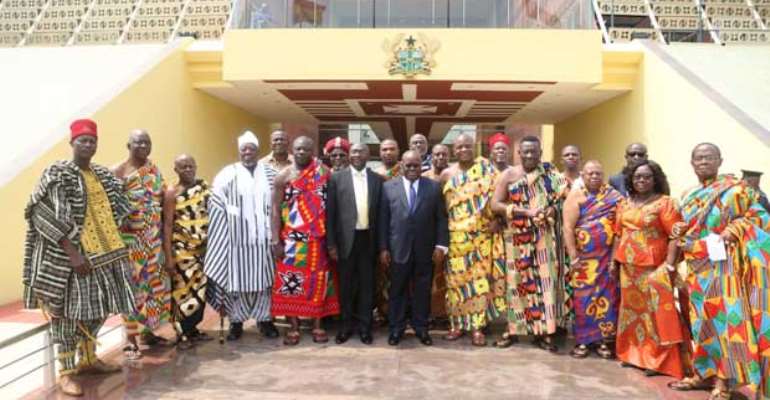 President Akufo-Addo and Vice-President Bawumia in a group photo with the chiefs
President Akufo-Addo has expressed concern about the involvement of some traditional rulers in activities that affect the environment, especially illegal mining popularly known as galamsey.
"There are occasions when…there are chiefs who are complicit in the decisions that are taken about galamsey operations," he said at a meeting with the National House of Chiefs at the presidency yesterday.
He therefore asked the chiefs to rather take initiatives that would protect the environment.
Charge
"I think it's important that all of us in Ghana recognize that if we don't make a stand against this willful degradation of our environment, sooner than later, we will all get up and find we have devastated the country and its future," he noted.
The president stressed the need for all Ghanaians "to make sure that we bring this phenomenon under control."
He has sought the full cooperation of the National House of Chiefs to support proposals his government intends to make to parliament to control the degradation of the environment.
Whiles welcoming the chiefs to the Flagstaff House, President Nana Addo Dankwa Akufo-Addo thanked them for their commitment to support his government.
"I've said and I've been saying for many years, that if we are to succeed in our common undertaking of bringing progress and prosperity of our country, it requires that those of us political leaders at the centre and you the traditional leaders of our country find an effective way of collaborating to address the concerns of our people. I hold on to that commitment; I hold on to that belief today," he affirmed.
He seized the opportunity to introduce to them the Minister-designate for Chieftaincy, Culture and Religious Affairs, Kofi Dzamesi.
On his part, President of the National House of Chiefs and Agbogbomefia of the Asogli State, Togbe Afede XIV, congratulated Nana Akufo-Addo on his election as president of the republic, saying many Ghanaians have endorsed his agenda for change.
Whiles admitting the fact that the task ahead cannot be accomplished by singular efforts of President Akufo-Addo, Togbe Afede called on all Ghanaians to lend their support because "there is no room for apathetic spectating."
Pledge
"We want to assure you that the chiefs of this country are solidly behind you…because development is our primary concern and as we all know, politicians come and go but chiefs remain and remain accountable to the people; so your success is indeed our success," the National House of Chiefs President emphasized.
They [chiefs] have since resolved to help the president to resolve all outstanding chieftaincy conflicts to help unite Ghanaians.
"We are therefore, mobilizing on all fronts all of our chiefs so that we can play a better role in governance," he disclosed.
Even though Togbe Afede admitted the fact that the country's Constitution debars chiefs from playing active role in politics, "the National House of Chiefs can play a role of an independent arbiter and catalyst in the governance and development process."
Resolve
At their meeting last week, Togbe Afede revealed that the House of Chiefs had adopted a strategy aimed at making the traditional rulers effective in the performance of their responsibilities to the people they serve.
For the prosecution of this agenda, he indicated that the House approved the formation of six committees – research and traditional affairs, land, natural resources and environment, finance and infrastructure, external relations, legal affairs and governance and development.
These committees, he said, would help mobilise chiefs in the country to procure the necessary information and resources that would position them to play their role effectively.
From Charles Takyi-Boadu, Jubilee House